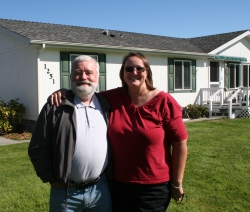 Sequim homes that are listed for sale with real estate agents have gotten a boost in activity with buyers showing up and looking during August and  September.  These are buyers who have contacted agents like me long in advance of coming here with a selected number of homes to view.  Buyers are not looking at FSBOs (for-sale-by-owners) as much, primarily because FSBOs are not listed in both MLSs and syndicated for buyers to find, and FSBOs are hard to find on the Internet.  But there are more reasons.
Sequim Homes
Buyers from outside the area also are seeking out a Sequim Buyer's Agent, because they are aware of the conflict of interest with dual agency, and they want a professional and knowledgeable agent who can represent their interests.
August and September and sometimes October are the last big hurrah for home buyers before winter sets in, and Sequim homes for sale get one more chance to sell before the winter months from November through March.  Of course, homes still sell in the dead of winter, just not nearly as many.
Sequim Homes Getting Viewed
It will be no surprise to you that the homes that buyers are viewing are the best of the best.  In other words, they are the nicer and newer homes, in beautiful areas with water or mountain views, and reasonably priced.  Unfortunately, this leaves out a lot of homes that do not fall within the bell curve of 67% of the demand.
Sequim Homes Not Viewed
Some homes are getting filtered out of the viewings entirely.  An odd floor plan can turn people off, bad photos or unattractive features or rooms in photos will turn people off as they view these homes virtually on the Internet.  Of course, a grossly over priced home may completely filter a listing out of the homes to be viewed when the buyers arrive.
Winter is coming.  Sellers are running out of time, because buyers go into their winter hybernation.  This month and next month may be the last best chance for Sequim homes to sell.
Last Updated on July 27, 2012 by Chuck Marunde