Sequim homes are selling at a substantially increased pace. I've compiled data for the first quarter of every year since 2003 to get an accurate picture of how Sequim homes sold so far in 2013 compares with past years.  Here's a nice visual aide that makes the point better than words.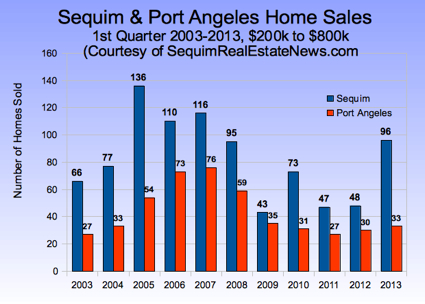 Sequim Homes Sold – The Interpretation
The peak of the real estate market in Sequim was 2005, and for Port Angeles it was 2007.  Sequim homes sold started a steady decline from 2005 to 2009 with a burst of activity in 2010, and then 2011 and 2012 maintained lower but level sales numbers.  As the tall blue bar shows so clearly, in the first quarter of 2013, Sequim homes sold took a huge leap to 96. That is a 100% increase over last year at this time.
Sequim Homes and The Real Estate Market
While this is generally good news for sellers, it may not be for buyers.  Some buyers are having some difficulty finding their ideal retirement home, and that is precisely because the best homes in the best areas are selling.  That segment of the inventory is shrinking.  Will this momentum in home sales continue throughout 2013?  That remains to be seen, but we certainly are off to a good start for 2013.  Sequim homes are selling in a surprisingly strong market right now. 
Last Updated on September 19, 2019 by Chuck Marunde