How do Sequim homes sold compare to Port Angeles homes sold during the calendar year 2012?  I've organized the data by price ranges to make more sense out of the data.  As a buyer, you may want to compare Sequim homes and Port Angeles homes, and this chart is one way to see what has been happening.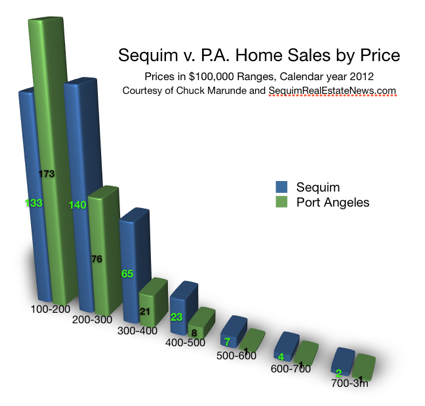 Sequim Homes v. Port Angeles Homes Interpretation
Here's what this information reveals on the supply and demand of Sequim homes and P.A. Homes in 2012.  Port Angeles sold 57% of the homes under $200,000 compared to Sequim's 43%. But apparently, Sequim wins in all higher price ranges.  Port Angeles sold 35% of homes from $200,000 to $300,000, while Sequim homes sold accounted for 65%.  From $300,000 to $400,000 Sequim won 76% to 24%, and from $500,000 to $600,000 it was Sequim 88% and Port Angeles 12%, and finally at $600,000 and above Sequim homes sold represented 75% of sales and Port Angeles homes sold represented only 25%.
Sequim Homes Sold in Larger Numbers
I think it is fair to draw two conclusions from this data.  [Source of data:  Olympic Listing Service].  First, for all homes sold below $200,000, Port Angeles sells slightly more homes than Sequim, but in all higher price ranges, Sequim homes sold are accounting for about 75% of sales and Port Angeles only 25%. Clearly, retirees are drilling down on Sequim homes much more than Port Angeles homes.
Last Updated on September 19, 2019 by Chuck Marunde