This Sequim horse ranch is an extraordinary horse property located between Sequim and Port Angeles.  Here's how I describe it.  The finest horse ranch between Sequim and Port Angeles on 5 acres, with 5 horse stalls and 5 horse runs, constructed with ground cover and layered with gravel to keep the horses out of the mud. The main home is a custom home with granite kitchen countertops, a propane cooktop, ceramic tile floor in the kitchen and wood laminate in the dining room. There's a completely separate house that is rented for $750/month.  The 1931 barn is in fantastic structural condition and keeps the hay dry.  "Pride Ranch" is in an open level area with lots of sunshine and a view of the Olympic Mountains.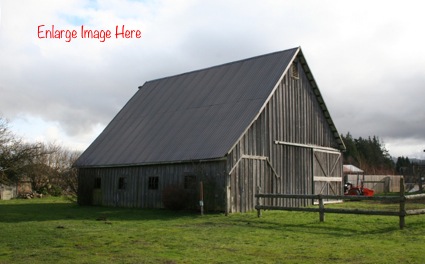 Sequim Horse Ranch Horse Boarding
It's hard to find a Sequim horse ranch with a barn like this.  In fact, it's hard to find a barn like this on any property on the Olympic Peninsula.  What a gorgeous barn.  The owner boards horses for $250 per month, which is a very reasonable fee in this area.  Each of the five stalls can hold two horses comfortably, which means this Sequim horse ranch will support 10 horses.
Sequim Horse Ranch for Sale
There is another nice hay storage building, and still another log storage building.  The rental home has its own detached garage, and the main home has an attached two car garage. Interesting in learning more about this rare property?  You can see the full information sheet and more photos at  Sequim horse ranch.  And watch the video at Sequim Horse Ranch Video. Update: This property has been sold.
Last Updated on September 19, 2019 by Chuck Marunde