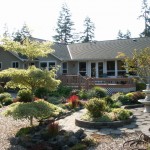 Sequim homes and land on the Olympic Peninsula are in one of the 10 best places to retire in the United States.  That has been written in many magazines over the past 15 years.  Many retirees are coming to Sequim from California, Arizona, Texas, Montana, Colorado, Massachusetts, Alaska, and Florida.  I love to ask my clients why they chose Sequim, and the answers have much in common.
Sequim Homes Attractive to Retirees
Sequim Homes with Mountain Views

Here are some of the reasons clients chose to look at Sequim homes and retire in Sequim.
"It's too hot in Texas, and Sequim attracted us because of its mild climate."
"We simply got tired of fighting the cold weather in Alaska.  Fifty below is just too cold."
"Too much crime in Los Angeles.  Security fences surround the school playgrounds.  Sequim is like Heaven in comparison."
"We fought bumper to bumper rush hour traffic for 25 years, and we decided when we retired, we were out of there.  Seattle traffic is . . . horrible."
"We just felt unsafe with all the drug traffic and crime in Arizona.""Now that we're retired, we decided we didn't want to be where taxes are killing us and where real estate is still overpriced.  San Clemente isn't the same as it was when we moved there 32 years ago."
"We wanted clean fresh air, mountains where we could hike and water where we could kayak, and Sequim has more of that away from all the noise and traffic than anywhere."
"We have horses, and so being able to raise our animals in a good place with mountain trails is important to us.  And our grandkids live two hours away from Sequim."
Sequim Homes with Water Views
Come and check out Sequim homes for yourself.
Last Updated on September 4, 2011 by Chuck Marunde