This Sequim log home is not only beautiful and rustic, it is architecturally designed for comfort. When you first walk into this Sequim log home, you almost breath a sigh because of how majestic it is, and then you immediately feel at home. As you look around you realize how much natural light there is everywhere throughout the house, and then you see the large windows up high.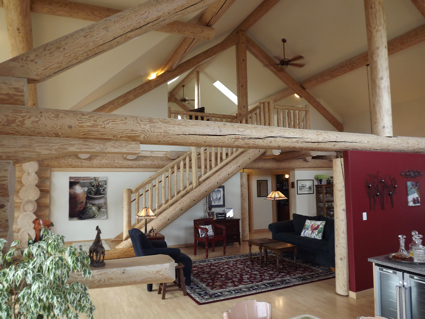 Sequim Log Home
The log work, especially the corner notching, is perfect.  The home has all the modern amenities, and an attached garage. This home is in the Sequim blue hole on five acres of rich organic soil with an irrigation ditch supplying the water. Did I mention there is a gorgeous view of the Olympic Mountains?
Sequim Log Home
I represented the buyers in this transaction, and this log home sold for $440,000.  If you would like to search for all the homes for sale in the area that are log homes, I've programmed my MLS site to do that at Sequim Log Home.
Last Updated on September 20, 2019 by Chuck Marunde