This Sequim mountain view home is a surprise, because the home is almost hidden, but it is close to town and has this incredible mountain view.  I shot this photo with a slight zoom lens, but it is close to what you actually see with your eyes.  It's hard to capture a beautiful view from a home on camera, but this is one of those photos that somehow does capture the beauty of the Olympic Mountains towering over the city of Sequim.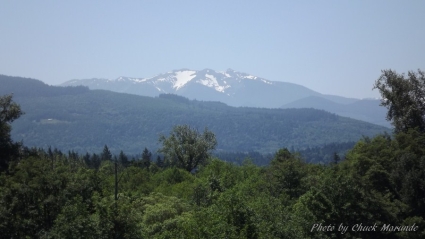 Sequim Mountain View Home
I'll have much more on this Sequim mountain view home soon.  We are still gathering information and determining the listing price.  It was built by a couple 20 years ago, and they still live in it but have decided to downscale.  It is in a fairly private area, is fairly large and has two levels plus a daylight basement.  Everything for living comfortably is found on the main floor, which is the way they designed this home.  The master bedroom and a large country kitchen plus an extraordinary Sequim mountain view are all found on the main floor.
If you click on the photo, it will take you to an enlarged photo on Facebook, assuming you have friended me on Facebook already.  If you haven't, please do.  Come back soon for full details and more photos of one of the best of the best Sequim mountain view homes.
Last Updated on July 13, 2012 by Chuck Marunde