This Sequim real estate blog can be read on mobile devices on your iPad or your Kindle or on any tablet. That's been true for years, but we have something new you might like. It's a magazine format for your tablet. You use your finger to turn the pages on your tablet just like a real magazine. You tap on an article to open it up. It's a wonderful way to browse articles and read about Sequim.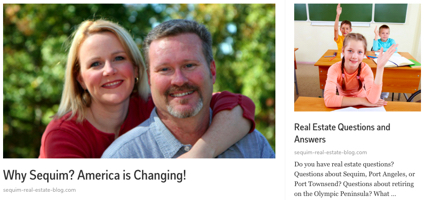 Sequim on Your iPad
Technology can be a wonderful tool, especially when you are far away in another state trying to find answers to all your Sequim questions. It's only been about two decades that we've had the power of the Internet, and only in the last decade that information resources like this real estate blog became available to buyers like you. It's fun to be able to use the Internet on your tablet like a traditional print magazine where you can turn the pages. The graphics of this Sequim magazine are great. Just to to Flipboard.com and search for "Buying Real Estate" by Chuck Marunde, or use this link: Sequim Real Estate. The pages turn on your tablet, but not on your PC or laptop.
Sequim on your Kindle
You can use your Kindle, if you have one, and take advantage of the same technology. You can even submit questions from your tablet to your local real estate expert (real estate atty, ret., author and buyer's agent). Enjoy! This is another of many firsts for iRealty Virtual Brokers, also registered as Sequim and Port Angeles Real Estate. 
Last Updated on September 7, 2019 by Chuck Marunde