Sequim real estate is a popular commodity of late, and buyers are enthusiastically coming to the Olympic Peninsula to shop for their ideal retirement home. Many retirees around the country have come to the same conclusion–that Sequim real estate is a bargain considering the lifestyle and cost of living in one of the most beautiful retirement destinations in the country.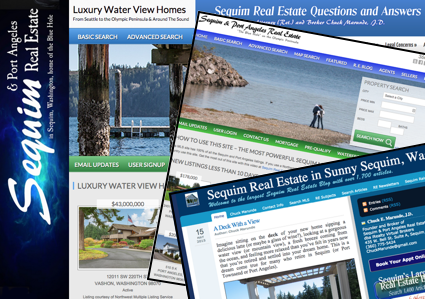 Sequim Real Estate Blog
This Sequim real estate blog was designed specifically for buyers, and the whole idea is to give buyers the best online resources to find their real estate and to answer all their questions. For example, there are over 1,800 articles on this Sequim real estate blog alone, and articles are added throughout the week on the latest and hottest issues affecting buyers like you. You can read articles by scrolling back in time, or you can search by subjects or phrases, or you can go back through the archives back to 2007. This is the largest online resource for Sequim real estate, bar none. All free. No registration required. 
But there is much more. You'll find three powerful MLS sites, which you can also use absolutely free and unlike many real estate companies, we do not require any registration or confidential information from you. No obligation. And as you will see as you read articles, these are not flaky or shallow topics. This blog won an award for being content-rich. Yesterday one of my buyers told me that they appreciated all the helpful information on this blog, and according to them it is the only Sequim real estate blog with so much solid information for buyers.
Sequim Real Estate for Buyers
Of course there is much more we give buyers. You'll find many paperback and eBooks written for buyers about Sequim real estate. Again, these are exclusive. No one is crazy enough to write entire books for buyers coming to the area except us. You'll find the link to those books on this blog. We have an entire video site just for Sequim real estate. We have thousands of photographs of the area for buyers to view, and we have multiple websites and blogs for buyers. We have an entire site which drills down on Questions and Answers, and so much more, there's not enough room to share it all here. 
Please browse this Sequim real estate blog and the links and affiliate sites, and you'll find a tremendous amount of information and answers to all your questions, all without obligation and without any registration requirements. If you don't find the answer to your question, you can email or call, and we will gladly answer it if we can. We hope we might become your favorite online resource, and your favorite Sequim real estate brokerage, iRealty Virtual Brokers.
Last Updated on September 7, 2019 by Chuck Marunde