Today I realized something about Sequim real estate agents and Sequim listings.  This graphic tells a story that will be of interest to Sequim home sellers and of casual interest to buyers.  In 2009 I examined the Sequim listings that were in the Olympic Listing Service (OLS) and in the Northwest MLS (NWMLS).  At that time about 66% of the listings in our OLS were in the NWMLS.  In other words, the NWMLS only had 2/3rds of the Sequim listings.  Today that percentage is down to only 44%.  This means that the only complete listing service for sellers' homes is the OLS, and for buyers the most complete MLS is the OLS.  Today I look at the number of Sequim real estate agents in the OLS and NWMLS in 2009 compared to 2012.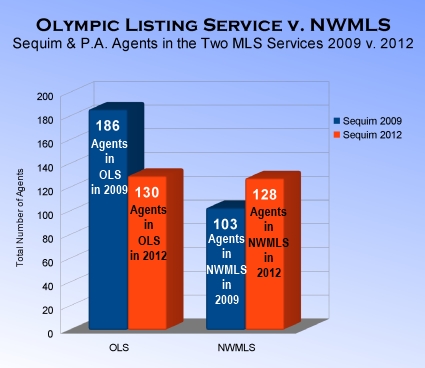 Sequim Real Estate Agents in OLS Decreases
In 2009 there were 186 Sequim real estate agents in the OLS, the most important local multiple listing service.  In 2012 that number is only 130 Sequim real estate agents.  We have lost a lot of Sequim real estate agents in this recession. 
Sequim Real Estate Agents in NWMLS Increases
The number of Sequim real estate agents in the NWMLS has increased from 103 in 2009 to 128 in 2012.  Why is that?  That's easy.  More Sequim real estate agents have realized the importance of being a member of both MLS services to give their listing clients the greatest possible marketing exposure, and they've realized the importance of reaching more buyers.  I was the first Sequim real estate agent to have a public MLS search site that gave buyers the option of searching either or both the OLS and the NWMLS.  Actually, my site may still be the only site with that option in the form of a pull down menu.  Check it out at Sequim Real Estate Agents MLS Site.

Last Updated on September 6, 2019 by Chuck Marunde