Sequim Real Estate Blog published its 1,000th article this week.  That's exciting news, because these articles have helped thousands of buyers over the years.  These articles have also helped many people who are not buyers, including Realtors.  The Sequim Real Estate Blog is the brain child of Chuck Marunde who has spent a lifetime in real estate and loves to give everything he has ever learned away free to anyone who reads this blog.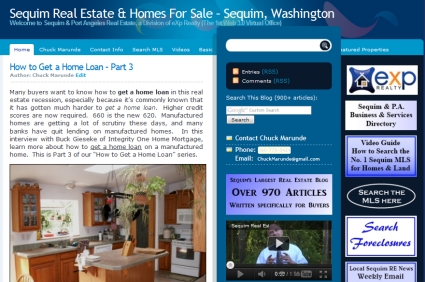 Sequim Real Estate Blog Hits 1,000 Articles for Clients
The Sequim Real Estate Blog represent a lot of hard work, many years in the school of hard knocks, 37 years in the real estate business (20 years as a real estate attorney), thousands of hours of writing and editing, thousands of photographs (not to mention the editing), over a hundred videos, a passion for the subject of real estate and a heart to give his clients all they need to make wise decisions about buying real estate.
The blog has been a huge success with people all over the country who regularly express their appreciation for the rich content and all the free information that truly cannot be found anywhere else.  All the content here is original and is written by Chuck Marunde specifically for the readers, buyers, and clients of Chuck Marunde.   There is absolutely no registration requirement for anyone to access all this information.  There are no gimmicks, and there are no required contact forms.
Sequim Real Estate Blog is Free
"I believe that people want to find good relevant information when it comes to buying or selling their home, and I also believe they want the truth and credible answers to their questions and concerns.  But I also think people want it free without having to reveal any personal information, so I give it all away.  I write about every real estate issue that comes up for buyers and sellers, and I share what I call insider information that is not classified by any means, but is rarely ever discussed outside the real estate profession.  I think buyers and sellers deserve to know the truth about marketing, sales, and how real estate agents work (or don't work).  So I give it to them in the Sequim Real Estate Blog."
Do You Like the Sequim Real Estate Blog?
If you enjoy reading the Sequim Real Estate Blog or you have found it helpful in the past, would you comment below?  Let us know what you like and how you've benefited.  Of course, you're also welcome to tell us what you would like in the future, and if we can provide it, Chuck Marunde will on the Sequim Real Estate Blog.
Last Updated on September 16, 2011 by Chuck Marunde