Sequim real estate brokerage iRealty Virtual Brokers, also known as Sequim and Port Angeles Real Estate, continues to receive accolades for cutting edge technologies in the real estate field  I am Chuck Marunde, and I am the the eXp Realty Sequim Real Estate Managing Broker.  I am pleased, but I am not surprised.  The very reasons this Sequim Real Estate Brokerage (as a national brokerage) was nominated are the same reasons I joined eXp Realty after a great deal of due diligence myself.  Here are the reasons I joined eXp Realty.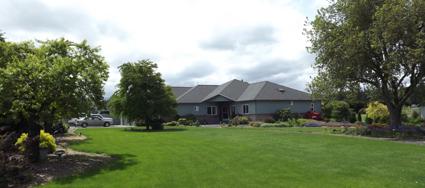 Sequim Real Estate Company Advanced
iRealty Virtual Brokers is leading the way for real estate brokerages.  Here are some of the reasons:
iRealty is the first real estate brokerage built from the ground up with today's Internet technologies.  While older companies are trying to re-tool and adapt and restructure (and bridge the gap), this Sequim Real Estate Brokerage is and has been operating with the best technologies and powerful Internet marketing from the beginning.

iRealty is a Virtual real estate brokerage that takes full advantage of the Internet superhighway.  This is a stark contrast to a traditional bricks-and-mortar brokerage that is burdened with too much of the old business model that isn't working so well anymore.  The overhead is killing many franchises today, and many have been going bankrupt, merging, and closing their doors.  50% of Sequim real estate agents have quit since 2006.

iVirtual is an online virtual office where agents meet daily for meetings, training and seminars.

iRealty has some of the nation's top technology and SEO experts, which translates to effectively marketing properties and connecting with buyers, and since over 90% of buyers are now using the Internet to find their next home, this is extremely important.

iRealty has gone completely digital with all transactions, which clients and agents love.

iRealty has top ranking websites and blogs, and is an early adopter of social media.

iRealty allows agents to work from home to reduce overhead, take advantage of technology, and increase net commissions.
My clients love what iRealty has done for them, and buyers love the online resources we give them.  One Sequim real estate client shared this:
I am impressed by the way Chuck has integrated internet services into his real estate business. He probably knows more about this process than any other Realtor in the country. In this tight market it is important to use every possible means to spread the word about available properties…to reach the few people who might be interested in a particular property.
Sequim Real Estate Brokerage Offers Powerful Online Resources
Buyers constantly tell me how much they appreciate the free online resources we give them, and this Sequim Real Estate Broker has the largest Internet presence of any agent in the county and maybe the state.  With over 1,500 articles on one Sequim real estate blog, it is the largest Sequim real estate resource online.  All of the articles are written by a local broker and retired real estate attorney.  We give our buyers more information about buying Sequim real estate and a wonderful programmed Sequim MLS online site to search all of Sequim's listings.
We never stop working to give our clients more than they have ever gotten before, and we are on the cutting edge of technology and Internet marketing to make it all happen. We are truly on the cutting edge and ahead of the pack of Sequim real estate brokerages.
Last Updated on April 29, 2014 by Chuck Marunde