Download Buying and Selling Real Estate in the Rain Shadow in the brand new eBook version for only $9.97 made available here for the first time.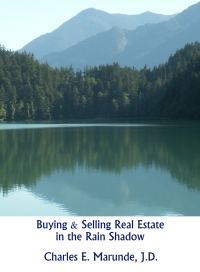 Written by real estate attorney and real estate broker Chuck Marunde, this 310 page book covers real estate issues in Sequim and Port Angeles in great detail.  Chuck is clearly enthusiastic about his second book as he explained, "This book takes 30 years of experience in real estate and gets into the most important issues for buyers and sellers in this crazy market. This book shares the truth about what techniques are selling homes today (old marketing vs. new more powerful methods), and how buyers are finding and buying their Sequim homes today."
"I talk about what buyers really want, and this is critical, because any homeowner who intends to sell his or her home must connect with a buyer, or the home sits on the market as some have for over 1,300 days. There are some advertising methods that no longer work very well, and there is an entirely new world on the Internet that has empowered buyers like never before."
Buying and Selling Real Estate in the Rain Shadow in the paperback version is available at The Dove's Nest at 139 West Washington in Sequim.   But you can download it in the eBook version right now for $9.97.
Last Updated on July 27, 2012 by Chuck Marunde