If you could design a Sequim real estate site that would allow you as a buyer to search 100% of all the Sequim homes for sale and Sequim lots for sale, what would that site look like?  Here's what my buyers have been telling me for several years.  They want to be able to go online anytime of the day or night and search the entire MLS in the Sequim and Port Angeles area, but that's not all.  They also want all the available information and photos (and videos) while maintaining their own privacy without being forced to give a total stranger their name and email address.

Sequim Real Estate Search Options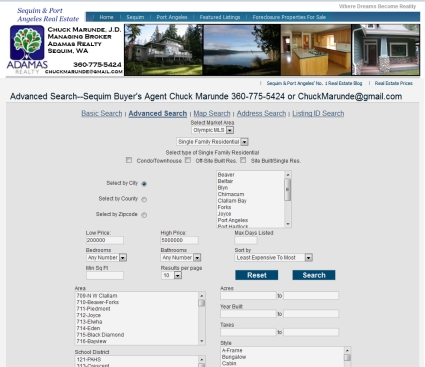 I've created and programmed a Sequim real estate MLS search site with the precise features retirees have been telling me they want:
A Sequim real estate site that includes 100% of all the homes and land listed for sale

The ability to search with their own search parameters, including all the details of the home and the views, and literally over 100 possible search combinations

Search results that show the full listing details and all about the property

Search results that include all of the photos in a listing in a large photo format on a high resolution site

Search results that give you a map showing precisely where each listing is located


Results that give you options for more information

Results that give you a virtual tour option, if there is a virtual tour

Results that give you the ability to request a showing of the property

Results that let you quickly calculate the monthly mortgage payment AND

Freedom to search the site as often as you want without being forced to register your personal and confidential information

The ability to save your searches and organize the homes you want to view when you arrive in Sequim.
This second to the last item is one that hundreds of clients over many years have told me that they really want and like in a Sequim real estate MLS search.  But here's something very few buyers know, and I bet real estate agents have never shared with you before. 
Sequim Real Estate MLS – The Dirty Secret
Sequim real estate agents and agents around the U.S. are told by salesmen for companies selling online MLS and IDX data services that we must force you, the buyer, to register on our sites in order to "capture" you as a potential client, and so we can then harass you in the following weeks and months, bombarding you with emails and phone calls.  I object to that obnoxious approach.  My buyer clients do not like being forced to register just to look at the Sequim real estate MLS and all the homes and land for sale. 


I don't care what the salesmen and marketing experts may say about how I should "capture" you, I serve my clients, and manipulative sales techniques are not part of my business model.  Does this mean I will miss out on some clients?  Probably, but I also think it means I will pick up clients who appreciate the fact that I respect their privacy and don't force them to register.  By the way, you can register if you want to save your searches for future reference, but you can search my MLS site anonymously forever, if you want to.  Almost all MLS search sites require you to register right away or after three searches.  I am one of the few real estate agents in the entire U.S. who gives clients the ability to do this without registering.
Sequim Real Estate Agent Gives MLS Away Free
I wanted to share this, because sometimes if you do something for clients, they do not necessarily know you have done something for them unless you tell them.  My Sequim and Port Angeles MLS search site is not only the best technologically with easy navigation, super photos, and great options, it gives you something few agents will give you–the ability to search anonymously and maintain your privacy.  This Sequim real estate MLS search was designed specifically with you and your preferences in mind.
Last Updated on September 16, 2011 by Chuck Marunde