Sequim Washington Magazine is a new and exciting publication specifically designed, written and published for retirees from out of state.  Many people know all about Sequim and have been planning to retire for many years in Sequim.  But many others who are near retirement don't know about the Blue Hole or the Rain Shadow, or they don't know about the amazing Sequim lifestyle, or the recreation, the fishing, the golfing, the kayaking, or the incredible retiree population here.  Many still do not know what it is like to live on the gorgeous Olympic Peninsula just two hours plus from Seattle or SeaTac.  There are so many reasons Sequim is an incredible place to live, and the climate and the fact that we get one-third the rainfall of Seattle are good reasons, but there are many more.  Sequim Washington Magazine is one way the publisher wants to spread the good news about Sequim.
Sequim Washington Magazine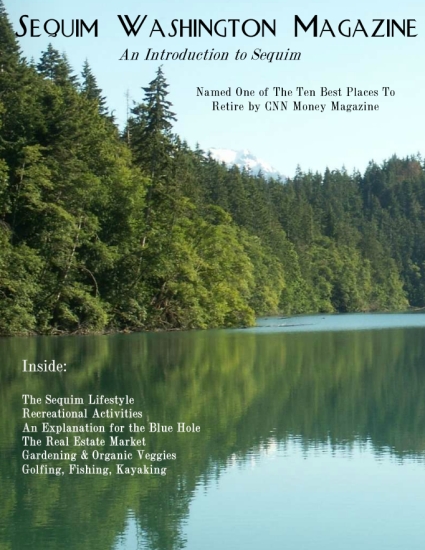 Sequim Washington Magazine
This is not a typical magazine.  Not at all.  Sequim Washington Magazine is a single publication that will evolve and grow.  Articles and relevant contact, photos, videos, and local stories will be added, but rarely deleted.  It will not be a typical magazine that changes completely with every issue.  This magazine is intended to be the best source of information, photos, and vidoes on Sequim, and that means we will grow, almost like a living and breathing publication.
Sequim Washington Magazine
Notice that throughout the magazine there will be links to local sites and information, and if you click on the link, which may be embedded in a photo or within an article, you will be taken to that site.  Sequim Washington Magazine can be opened up into a full screen magazine.
Who writes this magazine and who takes the photos, videos, and who publishes it?  Why of course, it is yours truly–Chuck Marunde.  This is another way I try to share the good news about Sequim with all the potential retirees around the country who are looking at Sequim and want to learn more.  Having lived in Sequim for 18 years now and having raised my own family here, I can personally testify to what an incredible and wonderful place Sequim is.  I often walk outside and say what I said again today, "Another day in paradise!"  I hope you enjoy Sequim Washington Magazine and your suggestions for articles will be welcome.
If you like the magazine, may I suggest and encourage you to email a link to friends or family who might enjoy it?  And anyone who lives in Sequim or is planning to move to Sequim is welcome to submit their own article or testimony.  I'm certain others would love to hear and learn more from recent converts or long-time residents.
Sequim Washington Magazine – brought to you by Chuck Marunde.
Last Updated on September 16, 2011 by Chuck Marunde