The Sequim real estate market is hot!  This is the official pronouncement by Chuck Marunde, Broker of Sequim and Port Angeles Real Estate, "As of today [July 1, 2013], I am announcing that the Sequim real estate market is hot."  This is not the same as saying the real estate market has recovered. That is a much more complex analysis.  But there is no question that after repeated patterns of homes selling quickly, getting multiple offers, and selling above listed price, we are in a hot market.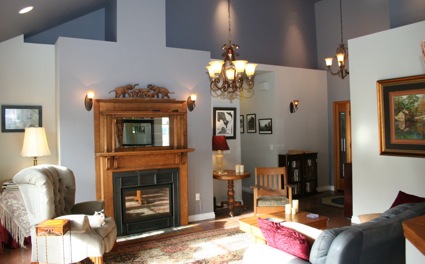 Sequim Real Estate Market – Multiple Offers
Clients of mine had me draft an offer on a home about a month ago.  I did and submitted it to the listing agent.  The next day the listing agent told me that suddenly that house had "three or four offers."  My clients' offer was not high enough, and another buyer got it.  Because this was my clients' idea of their perfect home, they asked me to write a backup offer just in case the first deal fell through.  I did and submitted that, this time for almost $20,000 above the listed price.  It never happened because the first offer closed. 
These same clients asked me to write an offer this morning on a house we found for them this past weekend.  It was listed at $299,000 and they wanted to make a cash offer.  I called the listing agent, and he told me that although this home had been on the market for over two years, it just got three offers on the same day, all three independently written at a price above the listed price, one of which was a cash offer.  My buyer was disappointed.  This is the second time they got beat out of their ideal home after much online searching and actual viewings. This would only happen when the Sequim real estate market is hot.
Sequim Real Estate Market – Selling Above Listed Price
Clients asked me to draft an offer this week on a nice water view home, which I did.  I submitted the offer and called the listing agent. Another offer had just been made, and now my client's offer is competing based on who comes back and offers the highest price.  In the past several months I have had many clients call me just before coming to Sequim wanting to see a short list of homes.  Time and time again 50% of the homes they selected in the three months before they arrive are sold before they get here.
We are now seeing with increasing momentum listed homes selling at or above the listed price with multiple offers.  In some cases, buyers are having to outbid each other.  Of course, the best scenario is to get your offer in before there are any other offers, and if your offer is accepted, it's game over.  As long as you get your loan, you win.  If you have cash, you just became a power buyer, and you'll love the negotiating power that gives you.  But if someone gets an offer in before you, cash won't help you.
Sequim Real Estate Market – Making the Offer
In slower times when a buyer said, "Draft an offer," we always had one or two days to casually put the offer together and submit it.  Not now.  Now if you come to Sequim and see the ideal home and you are going to make an offer on it, I would strongly urge you to have your Sequim Buyer's Agent draft the offer immediately and get it submitted the same day.  If you are outside the Sequim or Port Angeles area and you've been here and looked at homes and know what you want, and if you want to submit an offer, don't even wait for email–call me directly at 360-775-5424.  Wait too long, and you might just be too late, because I can tell you without any doubt that the Sequim real estate market is hot. UPDATE: This property has been sold.
Last Updated on September 20, 2019 by Chuck Marunde