The Sequim real estate market has been a difficult one to interpret, which probably could be said about most small real estate markets around the nation.  Here are some interesting stats for the past 90 days with a colorful chart.  Click on this chart to view a larger version.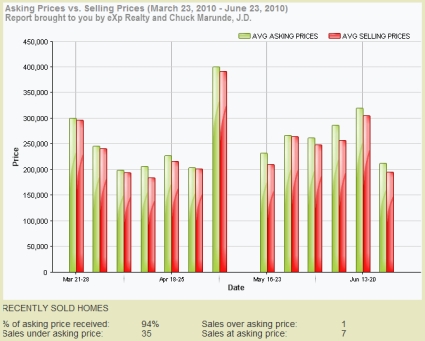 Sequim Real Estate Market Activity
This chart shows us how the listing prices compare to the sold prices in Sequim for the past 90 days.  The green colored bars represent the average listing prices for each week during this three month period for the homes that actually sold, and the orange colored bars represent the actual sales prices of those sames homes.
As you would expect, the sales prices are below the listing prices, but what is interesting is that it is not as much as you might think in this slow market.  Homes are selling in Sequim for an average of 94% of their listing prices.  During this time, 35 homes sold below the listing price, 1 sold above the listing price (most likely the result of the parties agreeing to add back loan and closing costs to the price), and 7 sold right at the listing price.
Sequim Real Estate Market Sales
One qualification when interpreting this data is that the percentage of the sales price to the listing price is based on the last listed price.  Many listings start much higher and over time are reduced in price once or several times.  Perhaps the original listing price was too high, and if it was substantially over priced, then it would be interesting to compare the original listing price with the final sales price.
Sequim Real Estate Prices
Conclusion:  Sequim homes are selling for 94% of their last listed price.  This is good news for sellers, because it means they aren't having to substantially discount their price to sell, at least not from the last listed or most recent listed price prior to the offer.  From a buyer's perspective, it means one should not be expecting huge discounts of 10% to 20% off the listed price (assuming we are not talking about a new original listing price that is over priced).
You can subscribe to my weekly market reports for Sequim and Port Angeles and receive this report and several more in your email by subscribing to Sequim and Port Angeles Market Reports.  This is an excellent way to keep up with what is happening in the Sequim real estate market.
Last Updated on July 27, 2012 by Chuck Marunde