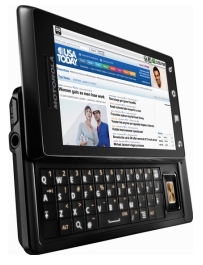 You can search for Sequim real estate, read real estate articles, look at Sequim real estate photos, and even watch videos, all on mobile devices.  Technology has taken us to entirely new levels, so if you have an Apple iPhone or an iPod Touch with wireless, you can download apps (applications) to enter the virtual world of the Internet.  I have a Motorola Droid, and it has downloadable apps that also allow me to search for real estate, read blogs, look at websites, watch videos and view photos, as well as check my email, and receive and send tweets and messages on Facebook.
In addition, my cell phone automatically syncs with my online calendar, contacts, and email.  This is almost too amazing to comprehend.
All this in a generation that learned to type on a manual typewriter!  Remember manual typewriters and rotary telephones?  My son once asked me what a rotary telephone is.  Egad!  Are we so old?  Answer:  No, we're not.  And here's my comeuppance:  my sons now ask me how to use computer and Internet technologies.  Here's at least one family where the kids are asking the old man for help with technology.  Of course, I eat that up.
This Sequim real estate blog is nicely readable on a mobile device, and I also have an iTunes app for searching Sequim real estate.  Just go to the iTunes store and type in "Sequim" and Voila! up comes my iTunes app specially programmed for your convenience.
We are not yet living with the devices conceived  in the Star Trek television series, but if you are looking at real estate in Sequim or Port Angeles, when you're away from your PC, you still have tremendous power right in the palm of your hand, assuming you are hold a cell phone like almost everyone else on planet earth.
Last Updated on July 27, 2012 by Chuck Marunde