Sequim real estate comes in all sizes and shapes, meaning that you have some nice options when it comes to the kind of property you want, the elevation, the view, the trees and vegetation, and the privacy.  Sequim is uniquely located at the base of the Olympic Mountains to the south and the Strait of Juan de Fuca on the north side.  The mountain range adjacent to the water is part of the meteorological  explanation of how the Sequim blue hole or the Sequim rain shadow exists.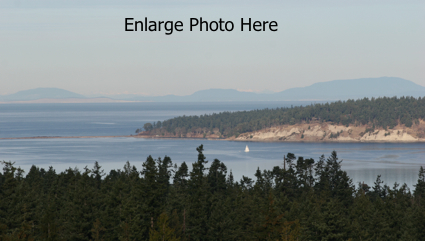 Sequim Real Estate Water Views
This variety in the Sequim real estate market gives you many options.  For example, if you want a beachfront property with no bank or a low bank, we have that.  If you want a Sequim water view on a medium or high bluff, we have stunning water views of International waters.  On the other hand, if you want a large parcel on the side of a mountain with a long distance view of Sequim Bay, you might like the property in the photo above, which I recently sold.
Sequim Real Estate Mountain Views
Not everyone wants a water view, or at least not everyone is willing to pay a premium for a Sequim water view.  With the Olympic Mountains jutting up majestically on the Peninsula, you might prefer a panoramic mountain view.  Retirees who come for the first time to look at Sequim real estate are typically delighted with our mountains.
Sequim Real Estate and Privacy
Many of my clients want some kind of privacy, which can mean a little more acreage and trees.  The Sequim real estate market offers level acreage in the area north of Sequim and a little west, but it also offers land and acreage and trees to the south of Sequim up in the mountains.  As you move higher in elevation to about 1,000 feet,you will get more rain and when it does snow in the mountains, you can get more snow than down in Sequim.  But this is also where you may find larger parcels and more privacy.  The Sequim real estate market offers many options and variety depending on what you consider your dream property.
You'll find Sequim real estate that is out in the open with lots of sunshine all day and rich organic soil.  You'll find property surrounded by trees and hidden from the world.  You can have your own garden or raise horses, Llamas, or Alpacas.  You can burn wood to save on your heating bill.  You can fish and hunt.  You can live a low cost lifestyle in Sequim.  But you can also live in a Sequim subdivision on a small low maintenance lot close to shopping.  Living on the Olympic Peninsula is wonderful and you'll find some great options when you come and look at Sequim real estate.  Use our powerful Sequim MLS search site to look at your Sequim real estate options.
Last Updated on September 19, 2019 by Chuck Marunde