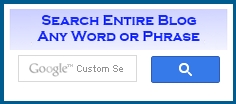 [Update: While this search tool in this article still works fine, we have upgraded since to a better system which you'll find in the search boxes on the home page of this blog, about in the middle of the home page.] This may be the most powerful Sequim real estate search tool on the Net, and as a buyer it is yours to use anytime you want to search almost any issue related to Sequim real estate.
Sequim Real Estate Search is yours at absolutely no cost, and you don't have to register to use it.  This Sequim real estate search will allow you to search literally over 1,800 articles written specifically about Sequim real estate issues.  Clock on this image or go the the search in the right margin of this blog. Here's how it works.
Sequim Real Estate Search Tool

Every real estate market is unique, and real estate issues that are important in Boulder or Dallas or Santa Barbara may not be important in Sequim, and vice versa.  When buying a home or land in Sequim or Port Angeles, what should you know?  What are the important issues and what due diligence do you need to do?  This Sequim real estate search tool is designed to help you find out what the issues are, and then you can learn more by typing in a word or phrase to seek more information on that subject.
Sequim Real Estate Search Example
For example, if you have never had a private well, and you would like to know more about how private wells need to be inspected and/or about well maintenance, you can search the phrase, "private well" without the quotes.  The results will show you many articles about private wells. Click on a title, and you're immediately taken to the full article.
Likewise, you can search for "private septics" or "well logs" or "easements" or "how to negotiate the best price" or "seller disclosure" or "due diligence" or "adverse possession" or "sequim water view home" or "sequim real estate market" or any of hundreds of phrases, all written specifically to help buyers make wise decisions when they are buying real estate.  This is the most powerful Sequim real estate search tool in the area.
Sequim Real Estate Search Helps Buyers
If there is any subject related to buying real estate to which you do not find an article or adequate answers, email me at chuckmarunde@gmail.com, and I will find the answers for you and write the article.  
Enjoy the most powerful Sequim real estate search tool.
Last Updated on September 7, 2019 by Chuck Marunde