Sequim Realtor pens another real estate book. Sakal Publishing is pleased to announce that Chuck Marunde published his newest real estate book. The title is Real Estate From Bricks and Mortar to High Tech Virtuality. As a Sequim Realtor, Chuck has created many valuable resources for buyers, also known on the Internet as content-rich resources. In fact, way back in 1997 Chuck received an award for his website because it was "content-rich."
Sequim Real Estate Broker Prolific Author
Chuck is a prolific Sequim Real Estate Broker as an author and writer, having written over 2,000 online articles for buyers who are planning to move to the Sequim area. Real Estate From Bricks and Mortar to High Tech Virtuality is Chuck's 9th real estate book, and his 18th book overall.
Chuck's other real estate books include:
Buying & Selling Real Estate in the Rain Shadow
Sequim Real Estate: A Buyer's Guide
Sequim Real Estate for Buyers, Free eBook Updates Forever
The Seven Myths of Selling Your Home
The New World of Marketing for Real Estate Agents
Buying & Selling Real Estate (iBooks)
Buying Your Retirement Home (iBooks)
How to Make an Offer (iBooks)
It was 25 years ago when Chuck moved his family to Sequim and continued law practice as a real estate lawyer. In a rural area like Sequim, lawyers didn't specialize. In order to survive in a small town, lawyers typically have a general practice, so they dabble in divorce law, business law, estate planning, and real estate. Chuck came from a real estate sales background in Alaska, and went to law school to specialize in real estate, so specializing in real estate law made sense, and his special expertise was a big hit among Sequim residents and Realtors who could call him and get free advise anytime.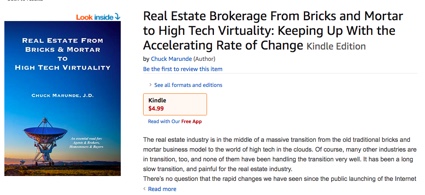 Chuck spent a lifetime acquiring his real estate knowledge, and years of experience as a real estate escrow officer closing transactions, a real estate attorney in Spokane, and many years gaining experience as a real estate attorney dealing with nearly every aspect of real estate contracts and real estate conflicts and litigation.
His law practice included years of advising one Sequim Realtor after another. Many found his advise practical because he had been a Realtor and understood the business intimately. Chuck knew the nuances of contract language and how to help clients be proactive in avoiding conflicts. "Ambiguities are one of the biggest traps for the unwary. It's amazing how many Realtors draft contracts with ambiguous language, thinking they've nailed it, but actually left such a big gap you could drive an 18-wheeler through it. Ambiguities are the cause of many disputes and litigation."
Chuck obtained a Bachelor's degree in Economics from the University of Alaska, a Doctor of Jurisprudence from Gonzaga University School of Law in Spokane, and also became a Certified Estate Planner, a Registered Financial Adviser, and an expert in real estate development and asset protection.
Sequim Realtor From Law Practice to Real Estate Brokerage
Chuck retired from law practice and about a decade ago opened up his own real estate brokerage in Sequim. "I felt I was coming full circle back to real estate brokerage, because that's where I started before I went to law school. I love real estate, and it's been my life, so it makes sense that I would represent real estate clients now as a broker. I suppose I've helped buyers from 35 or more states buy a home in Sequim."
Chuck's books are available on Amazon, although if you are a client, you may get lucky and get one free directly from Chuck. Chuck's blog can be found at SequimBlog.com and his public MLS site can be found at Sequim-Homes.com.
If you're thinking about buying or selling a home in Sequim, these books and the blog are great resources from one Sequim Realtor.
Last Updated on April 15, 2019 by Chuck Marunde