Sequim storms are rare, but we have some incredible online tools now to see the exact weather in real time, including the wind and the height of waves at any point you place your mouse on the map. We are in the winter months now, so Sequim storms are more likely for the next couple of months. You'll love this new site which is the most powerful one I've found at Sequim Storms.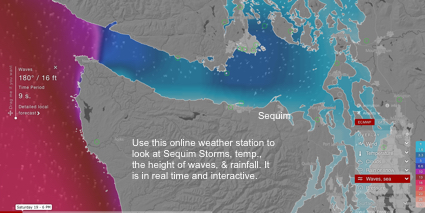 Sequim Storms on a Map
About a month ago we received a weather warning regarding Sequim storms, and the report stated that the storm could be worse than any storm since 1962. I made sure I had extra water supplies at home as well as food to last in case we had a terrible storm. I used the map above to look at the wind and waves on the Pacific side of the Olympic Peninsula, and also to see what was coming down over Sequim from the Olympic Mountains. I could even measure the height of waves on th Strait just north of the Sequim shoreline. Guess what? The great storm missed Sequim, although it hit all around us, including the Oregon and Washington Pacific shorelines, and even Tacoma and into Canada across the Strait. As I've said before, bad Sequim storms are really quite rare.
Sequim Storms
You can use this weather site above [Sequim Storms] to look at weather patterns, waves, temperatures, and wind anywhere in the world. Don't you love the technologies available to us on the Internet?
Last Updated on September 6, 2019 by Chuck Marunde