It's hard to find a home plus a Sequim guest house plus a shop only a few miles from downtown Sequim, especially on a beautiful lot in a quiet area with privacy. This is a property I just had to write about, because you will rarely find a property like this in the Sequim area. It's not perfect, because it needs some work, but if you can either do the work yourself or are willing to hire someone to do it, you will get a one-of-a-kind property at a bargain price.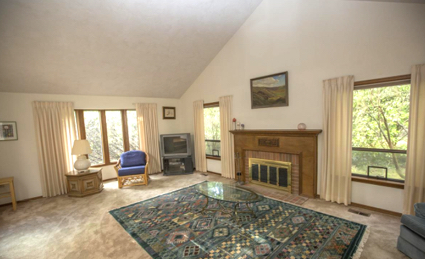 The Main Home (plus Sequim Guest House)
The main home is 2,500 sq.ft. with 3 bedrooms (on the 2nd floor), 2.5 baths, and an attached 2 car garage. This home is vintage 1979, so the kitchen needs a major upgrade and the hardwood floors need to be refinished. I suspect you would replace carpet, too. In addition the roof has a lot of mildew on it, and the back deck is collapsed and needs to be totally replaced. It's possible the wood shingles on the roof need to be replaced. How did the maintenance get so far behind on this home? The husband passed away years ago, and his widow lived alone for many years until she passed away recently, so this is an estate sale.
The Sequim Guest House
A nice Sequim guest house is hard to find in this market, and this guest house is very impressive. Unlike the main house that needs upgrading and maintenance, the guest house is move-in ready, and with over 1,000 sq.ft. the huge living room and gorgeous kitchen are more than comfortable for a couple.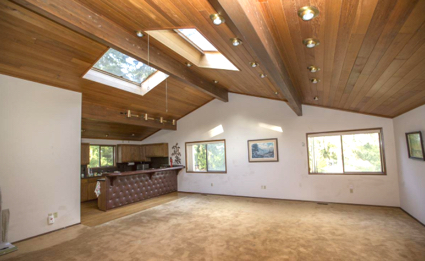 The Shop – The Big Bonus (Adjacent to Sequim Guest House)
When you look at the photos, you'll see how cool this shop is. High ceiling, super bright shop lights, and heating and ventilation equipment. The high shop door also means a motor home would have a warm home. In addition to the shop, there is a large double garage beneath the guest house. And the shop also has a kitchen and a bathroom.
You can look at photos of all of this at Sequim Shop + Sequim Guest House. The listing price is $425,000 for 2 acres plus the main house plus the guest house plus the shop. In my opinion, the guest house and shop alone are worth well over $250,000. If you're in the market for a spacious home plus a guest house and a shop, maybe you should call me now at 360-775-5424. Our inventory is very low of late, and the right home listed at the right price is selling fairly quickly at full listing price. That doesn't mean that will happen to this property, but I share that to emphasize that if this is your property, you probably don't have all the time in the world. Someone is likely to ask me to draft an offer on this property fairly quickly. 
Looking for a Sequim guest house and a shop?
Last Updated on September 6, 2019 by Chuck Marunde