Sequim Washington homes are selling, and this chart shows the number of homes sold each year starting in 2003, from Jan 1 through Aug 31.  At the peak of the market in 2005, Sequim sold 1.33 homes per day during this time period (the first 8 months of the year).  So far in 2011, Sequim has been selling .50 homes per day, or one home every other day.  That equates to 122 homes sold in the first 8 months of 2011, and I am projecting a total of 148 homes will be sold this year in Sequim.  That leaves 26 homes to be sold and closed for the remainder of this calender year.
Sequim Washington Homes Sold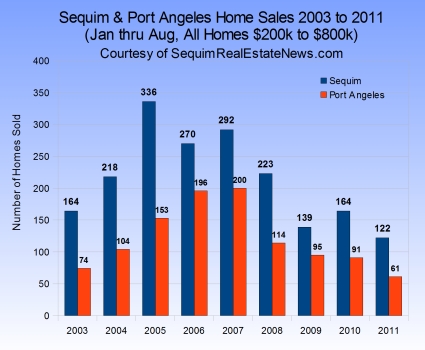 Sequim Washington Homes – Prediction on Sales
If you're a seller, you ought to be standing up and asking what extraordinary Internet marketing you are going to do to sell your home before year end.  There are over 800 homes in the MLS, and only 26 more will sell in Sequim in the coming few months, so what will get your home sold?  The "same-o-same-o" that traditional brokers use is not working for you, right? 
If you're a buyer, you can acknowledge that this is a buyer's market, but you should also recognize that in this small market there are not that many perfect homes on the ideal lot in your price range.  This means out of the 26 homes that will sell in the next few months, you will have some serious competition from other retirees who have the same preferences and financial ability as you.  With 26 buyers who close on homes between now and Dec 31st, there are probably five to six times that many coming to look at homes.  In other words, between 100 and 150 qualified buyers will be looking at homes, and 26 will pull the trigger and buy (and close) before Dec 31st.

So let's interpret this with a rational interpretation based on hard data:  While we are in a buyer's market when it comes to Sequim Washington Homes, the available homes in the MLS that you might fall in love with for the rest of your life could be counted on one hand, and there are over two dozen retirees who will buy homes just like this in the next few months.
Sequim Washington Homes
Don't misunderstand my argument.  My argument is not that you should a buy a house immediately and hire me as your buyer's agent just so I can make a commission.  Don't buy a house if you don't see the ideal home, and if the timing is not right, and don't hire me as your buyer's agent if you have a more qualified agent.
Understanding what is going on when it comes to Sequim Washington Homes is very important for both buyers and sellers.  Sellers generally don't get it.  Believe it or not, sellers are not doing their research on these issues, and sellers are not doing their research on which agent or broker to hire when it comes to listing and marketing their homes.
But buyers like you are doing their research.  In fact, buyers are doing extensive research on the Internet before they buy a Sequim home.  You may interpret this data in the chart above and the local market differently than I do, but my intention is to provide you with solid information and some analysis so you can make wise decisions when it comes to buying your home in Sequim.  I'd love to hear from you, so if there is anything else you would like me to address, just ask, and if you have another interpretation of this data, please share that, too.

There you go.  Now you know more about Sequim Washington Homes, our market, and how all this effects you.
Last Updated on September 11, 2011 by Chuck Marunde