I've been showing Sequim waterfront property to clients from California this week (and last week).  We are very fortunate to have so much Sequim waterfront property available, but of course we are on the Olympic Peninsula.  On the north we have the beautiful Strait of Juan de Fuca and to the south we have the Olympic Mountains.  So we have low waterfront property as well as high bluff Sequim waterfront property.  We also have some incredible water views from high up on the hillsides as you drive up many of our rural roads on the mountains.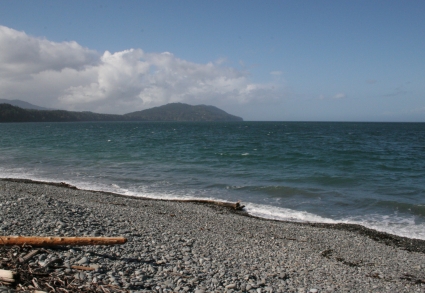 Sequim Waterfront Property with Gorgeous Views
Yesterday I showed clients a home with a large deck and plenty of windows facing south for a stunning view of Sequim Bay.  It was cloudy in Sequim yesterday, so the view was limited.  Yes ladies and gentlemen, it does actually rain in Sunny Sequim.  Today the sun is out again, so we will continue to look at homes today, but we will have a clear view of both water and mountains.
Sequim Waterfront Property Premium Property
My California clients tell me regularly that properties like this with the quality of home construction and the water views would be millions of dollars in California.  Here prices vary depending upon the variables, but you can buy an incredible home in the range of $650,000 to $1.2 million.  Yesterday my clients and I spent time in a Sequim waterfront property with a kitchen that would make a professional chef salivate.  Wow!  It was amazing.  Even the dishwasher was a two minute complete washing cycle.  I didn't even know they made dishwashers that fast.  The propane stove and oven were the best, and the side-by-side stainless steel freezer/refrigerator combination along with every tool you would want in a kitchen sent a message that this was a home for special meals and even entertaining many friends and family.
A great waterfront home starts with a great lot and location, a comfortable home design with a lot of thought, and the best materials and quality construction.  Sequim waterfront property is not a dime a dozen by any means on the Olympic Peninsula, but we do have some choice parcels.
You can view current Sequim waterfront homes for sale at Sequim waterfront homes.
If you would like to view a Sequim waterfront property, just email or call me at 360-775-5424.
Last Updated on June 13, 2017 by Chuck Marunde