Sequim weather is snow!  It is a surprise, and the last three days have dumped a lot of snow on Sequim.  Our Sequim weather is normally much dryer, although this time of year rain is not unusual.
Sequim Weather and Snow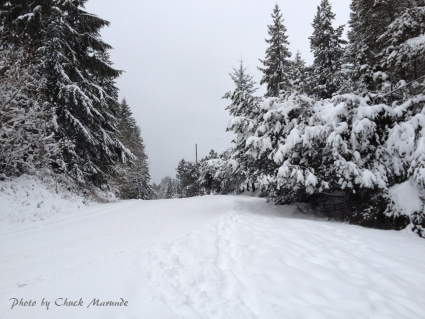 Sequim Weather Cold
I took this photo on Dryke Road in Sequim.  Ehad!  Snow everywhere, and plenty of snow ball fights and even sledding in Robin Hill Park.  The temperature has been freezing at night, and a few degrees below freezing.  We have had winters in Sequim with no snow at all, and we've had winters with snow that lasted two days to two weeks.  Next calls for 40's and rain, so all this snow may be melted by then.  We shall see.  This winter the Sequim weather surprised a few of us.
Update:  Two days later and the snow is melting rapidly.  It's much warmer and some rain is helping to melt the snow.  Oh well, Sequim weather is somewhat unpredictable.
Last Updated on January 21, 2012 by Chuck Marunde