We are in Sequim weather for buyers, or so it would seem. Sequim is experiencing an Indian Summer, hot sunny and beautiful weather lately. The high today was 68, but yesterday was 84, and it really felt hot. If you're reading this from Houston or Lake Havasu or Vegas, you'll laugh at my hyperbole about 84 degrees being hot. The real point is that it is beautiful here lately, and this is the middle of September.
Buyers have been showing up in large numbers in August and September in this gorgeous weather. This is probably one of the best times of year to come to Sequim and tour the area and look at homes.

Sequim Weather for Buyers and Dogs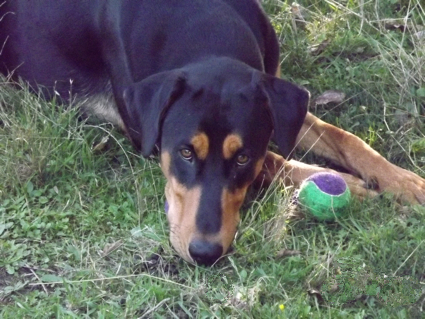 Even my dog got tired chasing his balls and needed a break in the shade. In this photo he seems to be wondering what this human is up to.
Sequim Weather for Buyers
This definitely is Sequim weather for buyers.  It's perfect, and I've been showing a lot of homes and writing offers in August and September as retirees decide to make their move.
Last Updated on September 20, 2019 by Chuck Marunde