Should I try to do a short sale or a deed in lieu, or should I let the bank foreclose on my house?  This is a question I got yesterday.  In this market this is a question that you may be asking yourself?  Many are unable or financially unwilling to continue to make mortgage payments on a property that is upside down, and there are only three options:  do a short sale (if the fair market value is less than the mortgage balance), let the bank foreclose, or get the bank to take a deed in lieu of foreclosure.
Short Sale Procedures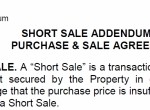 A short sale is a sale of your home for less than the mortgage balance, and your bank must agree to the sales price because they will take a loss.  I wrote in an earlier article on the Short Sale process, "Banks only accept a loss and approve a short sale if certain conditions are met.  Sequim short sales require that sellers complete an  extensive application, and they must persuade the bank that they have little or no assets to their name, no financial resources from any other source, and their income must be insufficient to continue to make the full mortgage payments.  The sellers have to provide written third party proof with bank statements, tax returns, and often a great deal of additional documents."
The short sale process is uncertain, because you have to list your home for sale, hope a buyer will make an offer, and hope the bank will accept that price.  All of that could take six months or a year or two years.  It's quite unpredictable.
Short Sale or Foreclosure
The foreclosure process is quite involved and takes a minimum of 6 months and more often 12 months.  As a Realtor I don't list foreclosures, but I do act as a Foreclosure Buyer's Agent, and in that capacity I owe my clients full disclosure on the state of the foreclosure market and the risks inherent in buying a foreclosure.  The process to foreclose a property is a statutory process in Washington [RCW 61.24].  When I was still practicing real estate law, I created a detailed checklist for the foreclosure process, and as you can see from this foreclosure process checklist, it is quite detailed and cannot be compromised.  [Read my article entitled  The Truth About Foreclosures and the foreclosure process.]
Short Sale Process is Slow
The short sale process is very slow and uncertain.  The foreclosure process is painful, too.  The deed in lieu of foreclosure may be the best option for a homeowner if your bank will accept the deed.  Not all will accept a deed in lieu, but if you have time and you have a beautiful home in a beautiful area, you may want to start the process of listing your home and trying to do a short sale early.
Last Updated on September 1, 2019 by Chuck Marunde