This single level home is right at the top of the Bell Curve when it comes to what retirees are looking for in the Sequim area. Are you in your 50's or 60's, retiring from a professional career, have been looking at the Sequim area for a few years, and now you are looking online to find that needle in a haystack? Many of my clients want a single level 3 bedroom, 2 bath home, and this is exactly what so many want. But this single level home offers an extra bedroom, so you either have 4 bedrooms, or you have 3 bedrooms plus a den or a little office. But there is so much more to this home and property that retirees tell me they want all the time. This virtual tour captures at least some of the story.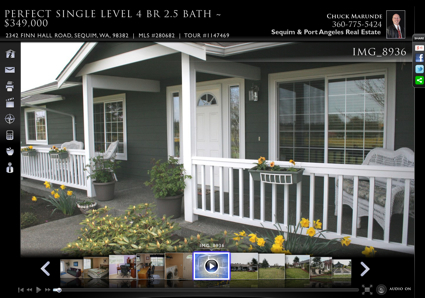 Single Level Home with Large Garage and Dog Run
If you want a little privacy, this home certainly has that. You can enjoy sitting on your back patio with total privacy, and you have a high wooden fence around almost half of the property on the west side of the home. That could also be your dog run, and there is an RV parking spot there with hookups for electricity and sewer. The attached garage has three bays: room for two cars and the third section could be for your kayaks or other toys.
Single Level Home – Will Sell Within 30 Days
This is precisely the kind of quality home that sells quickly if it is priced right. And the owner and I discussed pricing extensively for the past two months. After a detailed review of all similar homes, this one has been priced somewhat below the competition, and it is priced way below some of the listings out there that are comparable. 
If you are looking for a single level home like this with some privacy and a modern custom built floor plan, take a look at the full MLS information sheet at Sequim Single Level Home. If this is what you are looking for, I wouldn't dilly dally, because my experience tells me this will be gone quickly. Call me at 360-775-5424 to schedule a showing, or email me at ChuckMarunde@gmail.com if you are looking for a single level home like this.
Last Updated on September 21, 2019 by Chuck Marunde