Does it snow in Sequim?  This question does come up, especially because Sequim is also known as Sunny Sequim with the blue hole or the rain shadow. This photo was taken today, November 22nd, 2010, and obviously it does snow in Sequim.  At least this winter.  Some winters it does not.  Last winter there was never enough snow for my children and grandchildren to sled near my home.
It Does Snow in Sequim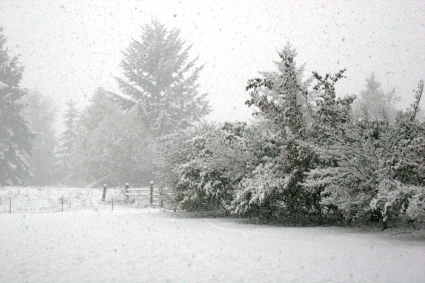 For those of us who live in Sequim, this snow is welcome and fun. It doesn't happen very often like this with such large full white snow flakes in such abundance.  We enjoy it while it lasts, because it most likely won't last long and will melt off.  One homeowner called this "magical," and that's a great description. The photo doesn't do this beautiful white snow justice, but in the live 3D version, it does appear magical.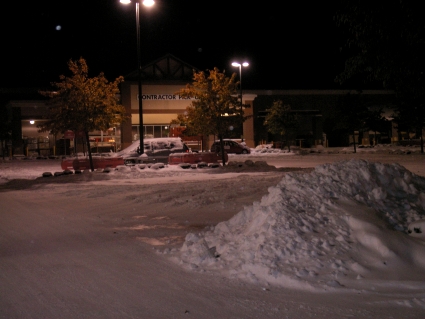 Of course this snow in Sequim also has a downside.  It covers the highways, so many of us have simply chosen to stay home rather than slide around on highways.  For those living on the mountainside, staying at home is probably a great plan for the day.  Our county and state highway maintenance crews do an outstanding job clearing and graveling the highways and rural roads.  It's in weather like this when many of us think about owning a four wheel drive, instead of a two wheel drive sedan. But then again, these kinds of conditions only last a couple of days out of the year, if that.  Of course, having written that, this snow could surprise all of us and last for a couple of weeks. Wouldn't that be something.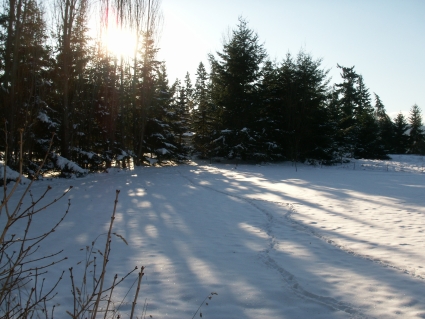 The second photo is the parking lot of the Home Depot store in Sequim, and this third photo is the morning after, November 23rd. Sunny Sequim welcomes snow in Sequim.
Last Updated on December 9, 2019 by Chuck Marunde