Sequim homes listed and Sequim homes sold are compared in this graph with blue bars representing Sequim homes listed and red bars representing Sequim homes sold.  This is useful information for both buyers and sellers.  By looking at how many homes are selling in each $100,000 price category, one can get an idea of the probability of selling a home, assuming the home is reasonably priced.
Sequim Homes Listed and Sold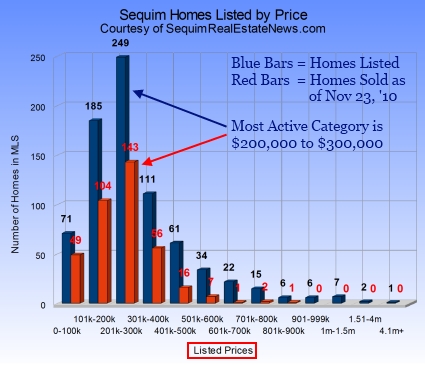 Sequim Homes Sold by Price
For example, only one home sold this calendar year in the price range of $600,000 to $700,000, but there are 22 listed in that same price range.  The analysis goes like this.  If a home in this category is over priced, it stands virtually no possibility of being sold.  Buyers are very intelligent and you can be sure they do their due diligence when buying a home.  If buyers retain me as their Sequim Buyer's Agent, I will make sure they do not over pay. But a home that is reasonably listed at true fair market value in this current market, it would have had a one in 22 chance of being sold this calendar year (10 months so far).  That's a 4.5% chance of selling.  Not good.  This is why one of my pet peeves is powerful and effective Internet marketing for good listings.
Sequim Homes Selling
As shown in the graphic, the largest category of both Sequim homes listed and Sequim homes sold is from $200,000 to $300,000.  While this category has the most homes listed and the most homes sold, the best deals are not necessarily in this competitive category.  The upper price categories include some of the best discounts and the finest quality in custom homes. Sequim homes are still selling every month even in these winter months.
Last Updated on September 4, 2011 by Chuck Marunde