The neighbor from hell lives somewhere, but let's hope he doesn't live next to you. We are very fortunate that the retirees who have been moving to Sequim for a couple of decades are wonderful people, not the kind of people who would be a neighbor from hell. Having said that, when I practiced law in Sequim, once every five or seven years someone came to me because they lived next to the neighbor from hell.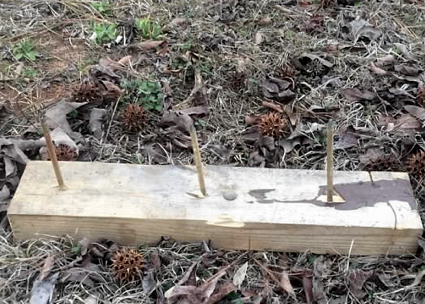 Neighbor From Hell
I received the above photo today from a couple dealing with a neighbor from hell, although this is not in the Sequim area. Yes, those are spikes intended to flatten tires. They told me:
"Our neighbor put a speed bump on the dirt road that we live on which is a public easement. We were going around the speed bump because it was causing damage to our vehicles. They then proceeded to put fence posts up along with booby traps as you can clearly see (in the photo above). I called the police and they stated that he can put booby-traps out as long as they are on his own property, but he does not have the right to put a speed bump on a public easement [a good lawyer would disagree with that policeman]. A surveyor came out, and his property line was farther into his yard than he was expecting. He promptly pulled the flags up and took up the fence posts and moved the booby traps. By the way he is an attorney. I have had a tremendous amount of stress due to this."
This is the typical profile of the neighbor from hell. If you want to know the precise behavior and personality profile of the neighbor from hell, read Neighbor From Hell Profile.
What To Do With A Neighbor From Hell
If you ever do experience the neighbor from hell, the best course of action is to consult an experienced real estate attorney immediately. There are some self-help options, but you have to know what you can and cannot do, and there are also a number of legal options that can put a stop to misbehavior by a neighbor from hell.
Last Updated on September 21, 2019 by Chuck Marunde