I show a lot of homes to buyers from outside the Sequim area.  Normally when I show a home, the sellers have left the premises.  Realtors have been taught for a long time at seminars to make sure their sellers don't get a face-to-face with buyers.  They're told that could be dangerous.  For example, there is the text book example of a seller who was casually chatting with potential buyers when she said, "Oh, no, we haven't had any trouble at all with our home since we got rid of the termites."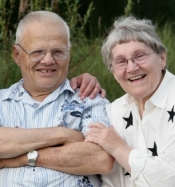 Every once in a while I show a home in which the sellers require an appointment, and sometimes they don't want a lockbox on the house and they may be present when my buyers and I arrive.  Such was the case recently when I showed a gorgeous high bluff property.  The home was stunning, and the panoramic water view was incredible.  After a wonderful tour of the home my clients and I went out the front door on our way to the car.  The sellers met us outside and we had a brief and friendly chat.  It was during the chat that the seller volunteered, "I had the bluff measured when we bought the property 15 years ago, and we've lost a couple of feet in some places and about 20 feet in one section.  The engineers say we will lose one to two feet a year on average, so in 40 years the house will be on the edge of the bluff, but you'll probably be dead by then so what does it matter?"  Or words to that effect.
Some time back I was showing a Sequim home when the seller, who was elderly and stayed in the home, told us about her neighborhood.  "We have wonderful neighbors except for the man next door.  He poisoned my strawberries and shot my potted plants with a pellet gun.  He's in his late 50's too."
Another seller told me and my clients, "When we first saw this home, it was really run down.  It was dirty and full of cobwebs, and there were spiders everywhere, but we just fell in love with it right then and there."
A few years ago sellers admitted something that was good for my clients to know, but was probably not the best thing they could have said to sell their home.  "We love our home, and it's been great, but we have to move for work.  The only thing that was kind of annoying was the water that ran through our crawl space every spring.  I guess the builder didn't put in a drainage system around the house."  Oops!
I love showing homes.  You never know what will happen or what people may say.
Last Updated on June 6, 2012 by Chuck Marunde