Traditional real estate brokerage is on the precipice of disaster, bankruptcy, merger, consolidation, and maybe just closing the doors permanently.  The 20-year old business model of the big bricks-and-mortar and all the expensive accoutrements that go along with that business model are like a damaged ship with a heavy anchor dragging bottom in a storm in uncharted territory.
Traditional Real Estate Brokerage in Uncharted Territory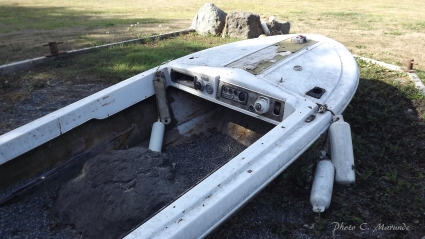 The uncharted territory is the new world of marketing, changing consumer preferences, and advances in technology that the traditional real estate brokerage has been quite unprepared to embrace.  The big luxury bricks-and-mortar buildings are symbolic of an archaic business model that relied upon the telephone, walk-ins, print newspapers and print magazines, flyers, billboards, and even open houses. And let's not forget the large physical building with massive mortgage payments and heavy tax and maintenance costs.  In this storm (aka this real estate recession), these huge corporate real estate franchises would have been well advised to throw all this ballast overboard.  Alas, they have not and they don't know how to completely restructure and get rid of the excess.
Traditional Real Estate Brokerage on The Precipice of Disaster

Hundreds of traditional real estate brokerage offices have filed bankruptcy, merged, consolidated, or just closed their doors around the country these past three years.  Here is the biggest proof of how the traditional real estate brokerage is on the precipice of disaster.  Realogy is the largest real estate conglomerate in the U.S.  Realogy is an umbrella investment company that owns Better Homes and Gardens® Real Estate, CENTURY 21®, Coldwell Banker®, Coldwell Banker Commercial®, The Corcoran Group®, ERA®, and Sotheby's International Realty®.  Unfortunately, when Apollo Global Management LLC bought Realogy in 2007, they paid $6.6 billion dollars and today they are $7.7 billion dollars in debt.  They plan to borrow another $215 million to make interest payments, and Century 21 and Coldwell Banker this month will use its $652 million revolving credit line to fund payments on its unsecured notes and second-lien loans.  Meanwhile, they are counting on a real estate recovery to save the ship.  This ship is on the precipice of disaster.  Read more about the sinking of America's largest real estate ship at Will Realogy File Bankruptcy?
Traditional Real Estate Brokerage vs. Consumers

Why is the traditional real estate brokerage sinking?  I think you know the answer to that question.  I think consumers know exactly why the big bricks-and-mortar real estate brokerage isn't getting their business.  Ask yourself this simple question, "How do you search for real estate today?"  For that matter, how do you search for almost any product or service today?  You go on the Internet and search, right?  You and roughly 90% of all Americans.  That's what I do.  It's what everyone I know does.  So is it any surprise that Realogy is like a ship in uncharted waters dragging anchor?  No.
Perhaps the best way of thinking about why the traditional bricks-and-mortars are sinking is to look at changing consumer preferences.  Consumers have left the building, and they prefer to do business in entirely new ways.  Consumers (buyers and sellers) want to be treated differently, too.  They want the latest technologies and Internet marketing, but they also want the best level of personal service.  The truth is that traditional brokerages are ignoring these changing consumer preferences.  Consumers have moved on.  They not only want to do business in different ways, they are using entirely different processes to do their real estate business.  The traditional brokerage that ignores consumers will eventually be out of business.
I don't sit in a luxurious office waiting for the phone to ring or hoping a prospect (or should I say "suspect") will walk in the front door.  I don't use traditional print advertising, which doesn't sell homes anymore or connect with buyers.  I don't waste time and money with all the extra ballast that simply weighs down the ship.  And I don't believe in massive debt to support a business.  A business today needs to be lean and mean, and it needs to put the client at the center of the Universe so that everything I do, my business model, my technology, my marketing, and my customer service must all be focused on meeting my clients' needs, not a corporate structure.
Call or text me at 360-775-5424 or email me to find out how my business model is dramatically unlike the traditional real estate brokerage.
Last Updated on October 28, 2011 by Chuck Marunde