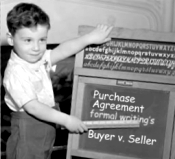 Can a buyer represent himself when he purchases real estate from a FSBO or from a listing agent?   Yes, but there are traps for the unwary, a few documents that are required by law and some documents that can protect you from calamity.
Buying real estate used to be a matter of a few pages signed by the parties and a simple closing in a real estate office.   It's not so easy anymore.   In the State of Washington here is a short list of the kinds of documents used in a typical real estate transaction.   Each document has its appropriate use and timing, and each document must be the latest revision, and they are revised regularly to comply with new law and new court rulings.
Law of Real Estate Agency Pamphlet
Lead Paint Hazards Pamphlet
Mold, Moisture, and Your Home
Seller Disclosure Statement-Improved Property
Seller Disclosure Statement-Unimproved Property
Multi-Family Purchase and Sale Agr.
Residential Purchase and Sale Agr.
Financing Addendum
Financing Contingency Notice
Buyer's Sale of Property Contingency Addendum
Payment Terms Addendum
Optional Clauses Addendum
FIRPTA Certificate
For Your Protection: Get a Home Inspection
For Sale By Owner Addendum
Snohomish County "Right to Farm" Discl. St.
Snohomish County "Right to Practice Forestry" Discl. St.
Disclosure of Info. on Lead-Based Paint and Hazards
Identification of Utilities Addendum
King County Addendum
Land and Acreage Addendum
Promissory Note (Fixed Rate of Interest)
San Juan County Tax Addendum
Seller Warranty-No Foreclosure Sale Pending Add.
Island County Addendum
Skagit County "Right to Farm" Disclosure
Buyer's Pending Sale of Property Contingency
Well Addendum
Septic Addendum
Short Sale Addendum
Title Contingency Addendum
King County Seller' Notices of OSS
Kitsap County Septic Addendum
King County Buyer's Declaration of OSS Receipt
Homeowner Insurance Addendum
Island County Noise Disclosure
Pierce County Septic Addendum
Oak Harbor Noise Disclosure
Kittitas County Surface Water Rights Addendum
Extension of Closing Date Addendum
Kittitas County Right To Farm Discl. St.
Snohomish County Smoke Detector Certification
Open Space Addendum
Manufactured Home PSA
Vacant Land Purchase & Sale Agr.
Presale Addendum
Presale Addendum – Optional Clause
Condominium Resale Certificate
Condominium Purchase & Sale Agr.
Condominium New Construction/Conversion Addendum
Earnest Money Promissory Note
Assignment of Buyer's Interest
Cooperative Apartment Addendum
General Addendum
Inspection Addendum
Inspection Response for Form 35
Escalation Addendum
Feasibility Contingency
Neighborhood Review Contingency
Pre-Inspection Agreement
Counter-Offer (Addendum)
Withdrawal of Offer or Counteroffer
King County On-Site Sewage System Discl.
Back-Up Addendum to Purchase & Sale Agreement
Notice to Back-Up Buyer that First Sale has Failed
Second Buyer's Addendum
Commission Disbursement Form
Buyer's Agency Agreement
Buyer's Agreement No Agency
Selling Broker's Commission
Agency Disclosure
Reservation Agreement
Notice to Remove Contingency ("Bump Notice")
Notice from Contingent Buyer to Seller ("Bump Reply")
Authorization to Disburse Earnest Money
Rescission of Purchase and Sale Agreement
Conditional Release of Listing
Rental Agr. (Occupancy Prior to Closing)
Rental Agreement (After Closing)
Lease/Rental Agreement (Residential)
Move-In/Move-Out Inspection Agr.
Pet Agreement
Option to Buy Real Estate
Homeowner's Policy of Title Insurance
Receipt for Earnest Money
Blank Notice
Notice of Rescission of Agreement Pursuant to Form 17
Notice of Termination of Agreement for Failure to Pay Earnest Money
Failure to Close-Notice of Termination by Buyer
Failure to Close-Notice of Termination by Seller-Seller Keep Earn. Money
Failure to Close-Notice of Termination by Seller-Seller to Elect Remedies
Buyer's Notice of Waiver of Financing Contingency
Buyer's Notice of Termination (Financing Unavailable)
Buyer's Notice of appraisal Less Than Purchase Price-Termination
Seller's Notice of Consent-Second Contingent Sale
Seller's Notice of Consent-Delayed Closing
Notice of Termination Pursuant to Neighborhood Review (Form 35)
Notice of Termination (Disapproval of Park Rules and Regs-Form 23)
Notice of Termination-(Unable to Assume Lease – Form 23)
Notice of Termination (Feasibility Contingency Disapproval-Form 25)
Notice of Termination (Public Offering Statement Disapproved-Form 28)
Notice of Termination (Resale Certificate Unacceptable-Form 28)
Seller's Notice that Title Commitment is Available
Buyer's Notice of Termination (Homeowner Insurance is Unavailable)
Buyer's Pending Sale Contingency Notice
I have always been a strong advocate of using a professional, in every profession, but here it is especially important that a buyer know when and how to use these documents.   And drafting unambiguous language in each of these primary documents and addendums is critical to avoid disputes and even a transaction that fails because of poor drafting.
More than ever, buyers are wise to use exclusive buyer's agents to represent them.   When I represent a buyer, I cost them nothing, because the seller pays my commission.   There is absolutely no conflict of interest, because I don't worry about getting my buyer the lowest price while trying to get my seller the highest price at the same time!
Last Updated on December 5, 2023 by Chuck Marunde