Is the real estate market overvalued right now? According to the Chief Economist for Trulia, Jed Kolko, the real estate market is overvalued in some markets around the country. There are markets where housing prices are overvalued by as much as 10% in some markets, but he compared that to 2006 when housing was overvalued by as much as 30% to 50% in many markets. When housing is extremely overvalued, people start talking about a real estate bubble.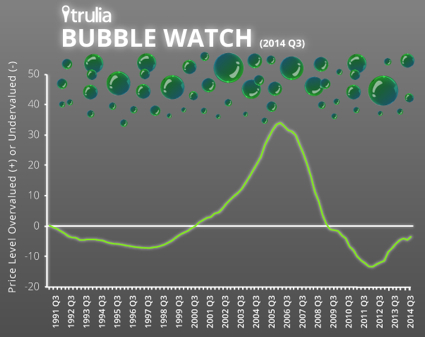 Real Estate Market
Kolko also said the real estate market in most areas of the country is still undervalued by 3%. This is shown in the Trulia Bubble Watch graph above. But who has not read or heard about houses in some of the hot California markets where houses have sold the first day for full price, or better yet, had multiple offers above the listed price? Those hot little markets are the ones Kolko is referring to when he says the real estate market is overvalued.
The overvalued markets include Austin, Los Angeles, Orange County, San Francisco,  and Riverside-San Bernadino. The undervalued markets include Dayton, Cleveland, Detroit, Akron, Lake City and Kenosha City. 
Real Estate Market in Sequim
How does the real estate market in Sequim compare? The Sequim real estate market is still undervalued at this time. Prices have not yet reacted to the theoretical supply and demand curve in two ways. Prices should have started going up because the inventory of the best homes in the best areas has been shrinking, meaning the supply is way down, and at the same time more buyers have been arriving and buying homes in 2014, which means demand is up. Couple those variables with the fact that buyers are strong, either paying cash or having no difficulty with financing, and you have the fundamental elements to push prices upward.
But prices have not been going up, at least by much. Homes are selling sooner, and there is some competition now for the best of the best homes in the best areas, but we are still undervalued. In my opinion, that will end soon as prices begin to creep upward in response to what is happening in the real estate market in other states as well as Sequim.
Last Updated on September 22, 2019 by Chuck Marunde