Who doesn't like a sunny Sequim day, and this Saturday was such a day.  I took my daughter to Seattle on the Bainbridge Ferry.  We parked on Bainbridge Island and walked on the ferry. Thirty minutes later we were getting off downtown Seattle. Coming across the Strait was beautiful with the sun sparkling on the calm waters, and the sailboats were out in large numbers.  Enlarge this photo below to get the full impact.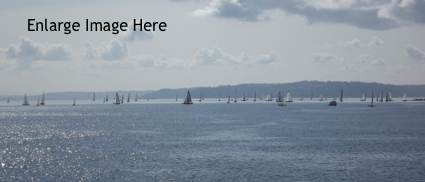 A Day in Sunny Sequim and in Seattle
It was a short walk from the Seattle ferry dock to Pike Place Market downtown Seattle.  Shops galore and a lot of quaint little restaurants.  My daughter and I enjoyed a delicious lunch and walked the market amidst a sea of humanity.  This is a very enjoyable Saturday afternoon trip from Sequim.  Not only was it a sunny Sequim day, it was also a sunny Seattle day.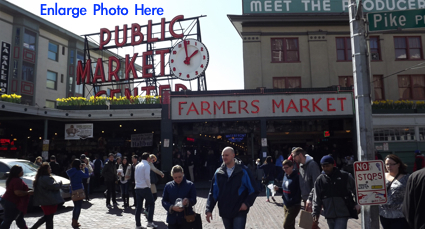 From Sunny Sequim to the Seattle Gum Alley
If you haven't seen Seattle Gum Alley at Pike Place Market, you've got to see it.  An entire alley of bubble gum on the walls, both sides, from the ground to way up high.  On everything. Gum everywhere but not a stick to chew.  Fascinating.  Who started this anyway?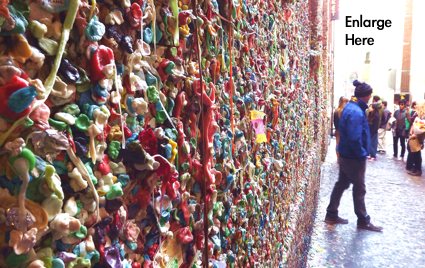 From Sunny Sequim to Seattle is an especially nice way to spend a sunny afternoon.  Two and one-half hours one way, and if you take your camera as I always do, you'll have a great time all the way from Sunny Sequim.
Last Updated on September 19, 2019 by Chuck Marunde