It's another day in Sequim, and I am loving it. This morning I awoke early and enjoyed a cup of coffee and some fresh air on my Sequim property as I walked around my two and a half acres with my dog, Titus. It was a chilly but invigorating morning, and as I always do, I deeply inhaled the pristine air that gently blows across my property directly from the ocean (or the Strait of Juan de Fuca which becomes the Pacific Ocean).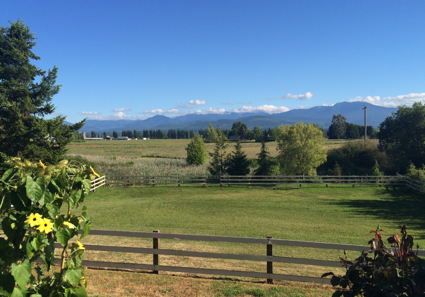 The sun was rising and I felt like I was looking at a painting as I looked south to the panoramic view I have of the Olympic Mountains. Bright rays of sun glistened through the trees across my property, and the fields and trees in the distance were beautiful with autumn colors. The sun was still rising, and the bright snow capped mountains really did look like a gorgeous painting. But it's just another day in Sequim.
Another Day in Sequim
The lower water level in the irrigation pond on the southern end of my land is showing signs that winter is coming. As I sipped on my hot cup of gourmet coffee, leaning on the white fence built by the prior owners to keep horses, a flock of geese flew over my head singing that winter is coming in their own cacophonous way. Another day in Sequim.
By mid-morning it was already 47 degrees. Winters are mostly in the high 40s and 50s, and summers are mostly in the 60s and 70s. I jumped in my car and checked on a brand new condominium unit I recently sold to some clients, and after that I stopped at Starbucks for a double short latte extra hot and a blueberry scone. Savoring my scone and coffee, I couldn't resist writing this article expressing my delight with living in Sequim. I love it here, and I have for 22 years. But then again, I count my blessings every day. Sequim is a happy place to live.
Another Day in Sequim
I could go on and on about Sequim and what an incredible climate we have, what it's like to live in one of nature's most beautiful places on the face of the earth, or I could talk about how safe it is to live here, how there is very little traffic . . . ever . . ., and I could go on an on about the delightful and interesting people who live here. But I won't. I'll let you search out articles on these subjects on this real estate blog, and there are over 2,000 such articles. 
For now, I just want to say, "It's another day in Sequim," or as I often say to myself, "Another day in Paradise." Same thing.
Last Updated on September 6, 2019 by Chuck Marunde