Bell Hill homes are selling once again after a bit of a lull in the past few years. Prices are down and demand has increased of late. How can you know how much to offer on a nice home? In this article I want to show you how the tax assessed value relates to the listed price and the actual sales price. Since the tax assessed value is available online, it is helpful. This graph shows ten Bell Hill homes and compares the listed prices with the sales prices with the tax assessed values.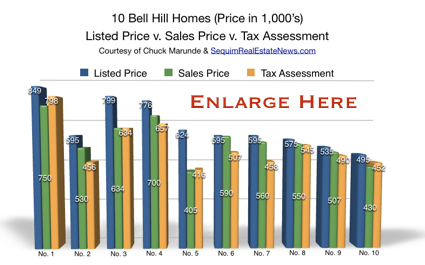 Bell Hill Homes
Enlarge this graph by clicking on it. The blue bar represents the original listed price, the green bar represents the actual sales price, and the orange bar represents the taxed assessed value prior to the sale. It will be no surprise to you or me that some of the listed prices were much too high. What is interesting is that the actual sales prices are much closer to the tax assessed values, but I need to qualify how to interpret this data.
Bell Hill Homes and Tax Assessed Value
This does not mean you can look at Bell Hill homes for sale and expect to buy one for exactly the same price as the tax assessed value, although that is what happened with home No. 3. As you look at the enlarged graph, you'll see that some homes sold above the assessed value and some Bell Hill homes sold below the assessed value. The above Bell Hill homes sold for 6% less than assessed value to as much as 22% above assessed value. Taking out that extreme of 22%, the average range is plus or minus 6%. While this is not definitive, it is interesting to know that many Bell Hill homes are selling within a range of 6% above or below the tax assessed value. Obviously, there will be exceptions.
Having said that, there is much more to evaluating a property and determining fair market value. I recommend my book on this subject that details the several methods you can use to analyze price and determine true fair market value in any market. That book is available in the Apple iBookstore store, and the title is Buying Your Retirement Home (Book 2). Of course, if I have the privilege of working with you, I help you evaluate values on Bell Hill homes.
Last Updated on September 21, 2019 by Chuck Marunde