When is the best month to sell Sequim homes?  In what month do the most Sequim homes sell during the year?  Many homeowners have wondered when the best time to sell is, and some who had their homes listed with an agent have withdrawn their listings during the winter months, assuming that nothing was happening and that they might as well wait for April or May to re-list.  This hard data and chart below will help you plan your strategy to list and sell your home.  By the way, you know who would really benefit from reading this blog but who is not reading it because they don't even know about it?  Sellers.  Sellers who have their homes listed but are frustrated because they haven't sold their homes and they don't understand the inner workings of the real estate business would discover so much in the 1,100+ articles here.  If I may, I would encourage you to email your friends the link to this blog.  It's all absolutely free, and honestly, who gives away more real estate law, real estate sales and marketing data, and research tools than I do?  Help me give it all away.  Share this link with everyone you know.
Best Months to Sell Sequim Homes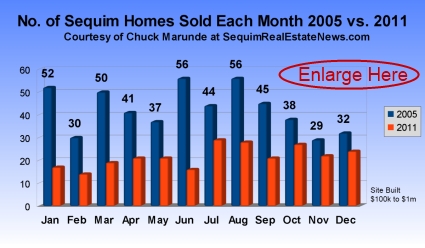 Sequim Homes – Interpretation
To understand this graph on monthly sales of Sequim homes, I recommend enlarging it first by clicking on the image above.  What you're looking at is monthly sales of Sequim homes (site built, $100,000 to $1 million) comparing 2005 to 2011.  So this graph actually gives us data to draw multiple conclusions.  The main point of this article is that we can see the sales of Sequim homes each month of the year.  Considering that this data represents actual closing dates, you'll want to back up 30 to 45 days to identify the date the parties reached mutual acceptance.  Doing that tells us that in 2011 May, June, July, August, September, and October were the best selling months of the year.  This would confirm what most people believe, that the spring is when most buyers are making offers.  But most people might not realize that September and October are good selling months.  Of course, if you were one of the sellers in January through April, you would point out that Sequim homes sell in every month of the year, and you would be right.
Sequim Homes Sold 2005 vs. 2011
I included the data on monthly sales of Sequim homes in 2005 just for a comparison to the peak year of sales.  I found it interesting that in 2005 buyers didn't seem to care about coming in the spring months.  They bought in large numbers in any month.  It's also interesting, and a bit discouraging, that in some months in 2005, more than twice the number of  Sequim homes sold than in the corresponding month in 2011.
If you're selling now or thinking of listing now, these next five to six months are crucial.  These will be the peak months for sales of Sequim homes this year.
Last Updated on April 28, 2012 by Chuck Marunde