Some of the best Sequim homes for sale have seen their prices reduced in this market and are incredible homes currently listed at great prices.  I want to highlight a few here, and you can learn more by following the link to these featured listings.  What appeals to you?  A Sequim waterfront property, a Sequim water view property above Sequim, a five acre lot with a stunning panoramic view of the Olympic Mountains, a no-bank beachfront property with a view of the Sequim-Dungeness Lighthouse?  Or do you want to live out of town in a very private location where the neighbors can't even see you?  Do you want some acreage so you can have a couple of horses?

Best Sequim Homes for Sale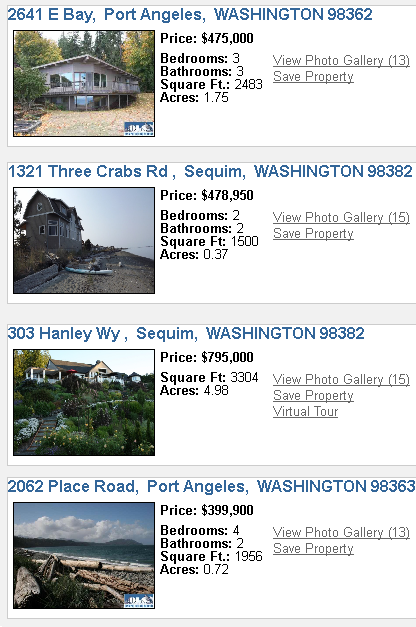 Best Sequim Homes for Sale
All four of these properties above are rare, beautiful, and priced to sell quickly.  If you click on the image above, you'll be taken to the full listing sheets for each of these best Sequim Homes for Sale (with a couple of Port Angeles Homes too).  Here are some more of my selection of Best Sequim Homes for Sale:

Best Sequim Homes For Sale

I post these homes because they really are some of the best deals on the entire market today.  If one of them strikes your fancy, call or email, and we'll arrange a showing.
Last Updated on November 26, 2012 by Chuck Marunde