When is the best time to look at homes in Sequim? Is the best time in the spring, the summer, the fall, or the winter months? One logical answer is that the best time to look at homes is when you arrive. Okay, that's good, but what about now in the middle of winter? Why would I raise this question now? In the past three weeks my buyers are finding that cold February is a very good time to be here and to submit an offer and to buy a home. I'll explain exactly why.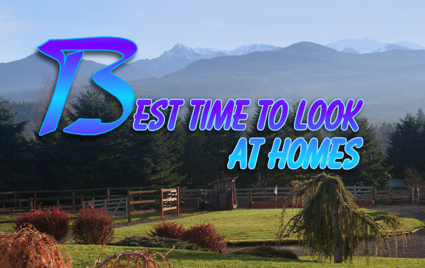 Look at Homes in Winter?
November and December of 2013 were surprisingly quiet, but starting in the middle of January buyers suddenly started arriving again to look at homes in Sequim. Not only that, they are writing offers. I sold two homes in the past two weeks, and drafted a third offer this week, and I showed homes to a new couple yesterday and today, and we found their ideal home, too. This is great, but with temperatures uncharacteristically low lately (20 degrees F early in the morning today), why are buyers arriving now to look at homes in Sequim?
Look at Homes and Get a Jump on Other Buyers
The seasons do not care when you retire, or when you sell your home in California, or when it is time to move into the next phase of your life. For many retirees, that time may be in January or February. But many are also wanting to get a jump on the spring buyer's season. Getting here now gives buyers an advantage. Many sellers are very motivated to sell now, and as a buyer who is qualified and serious, you have less competition now than you will in the spring and fall months. That means you have more negotiating power. It isn't the prettiest time of year, because flowers are not blooming and trees are dressed scantily, but financially it is a good time to come. No wonder the winter months are arguably the best time to look at homes in Sequim.
Last Updated on September 21, 2019 by Chuck Marunde