When my oldest son was growing up as a young athlete and later as a world-class professional strongman, one of our mottos was "Bigger, Faster, Stronger."  It's not something we said all the time, or put on the walls as a motivational cliche, but it was a core philosophy for my family.  I taught my sons to work hard, to push themselves every day to do their absolute best, to grow personally and professionally, to live out the values of integrity and loyalty, and to leave a legacy that would live on long after they left this world.
I'm proud to see that my three sons have been living their lives with honor and with these values as foundations to all they do.  My oldest son, Jesse Marunde, became a world class Professional Strongman, and came in second in the World's Strongman Contest in Chengdu, China about 4 years ago.  He became very popular in Europe, and would often sign autographs for one or two hours at events.  I remember so clearly as he and I were working out in the gym I built for him in our garage when he was young:  He said to me, "Dad, I know what I want to be in life."  I asked him what that was, because we had been talking since the day he was a teenager about what he would do with his life.  He said, "I want to be the strongest man in the world."  Without a doubt in my own heart, I looked him straight in the eyes and said, "I believe you can do it Jesse."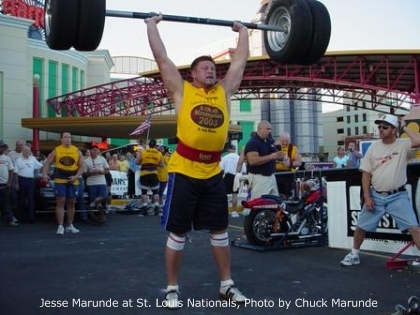 Jesse went on to nearly accomplish that goal before he suddenly died of a heart attack while working out in the gym in Sequim.  He lived life "Bigger, Faster, and Stronger" in all he did.  He was passionate and intensely focused.  He also left a legacy.  At Jesse's funeral an elderly man in his 80's told me that Jesse saved his grandson's life.  His grandson had been involved in drugs and was at a very confused place in his life, and Jesse had taken him under his wing and began training him in the gym.  As a strength trainer, Jesse was a dictator, but what came through to his students was a heart that cared.  He challenged this young man to not just get stronger in the gym, but to create a whole new lifestyle of success based on values and hard work.  As the old man shared this with me, it was hard not to be emotional.
My other two sons are living out the same values and integrity in their lives, and I can say I'm a proud father.
Meanwhile I continue to build out my real estate business and the incredible relationships I have with my clients and friends, and my personal motto is "Bigger, Faster, Stronger."  I apply this to my business, but I also exercise regularly.  As I run down the road jogging and measuring my distance and speed with my GPS enabled cell phone, I often reflect on the good memories I have of my son and how I helped him behind the scenes become a great young man.  I was his "mind" and motivational coach in his early years.  I was the first influence in his life to live out a passion for athletics in my own early workouts where I took him along, even on my jogs pulling his bicycle with a rope so he could keep up.  I helped him negotiate and get his contract with MetRX.  I coached him on how to talk into a microphone at strongman events with short pithy humor.  And I was his marketing guru as he built his reputation and business around the world.  Few people know about any of this, but I thought it might be an interesting diversion for my readers and perhaps a peek into what makes me tick.   I hope you don't mind me sharing these fond memories of my son.  I'm working hard to leave a legacy in my small world, and I'm working diligently to be "Bigger, Faster, and Stronger."
Last Updated on July 27, 2012 by Chuck Marunde