Bristol Marunde is the Ultimate Fighter on Season 16.  Sequim, Washington may be famous as one of the 10 best places to retire in America, but Sequim is also the hometown of famous mixed martial arts fighter Bristol Marunde.  He has worked diligently behind the scenes for many years to become a great athlete.  In this TV series he is now receiving some well deserved recognition.  Having watched his intense training for years, his disciplined nutritional regimen, and his incredible focus, I believe Bristol Marunde is the Ultimate Fighter.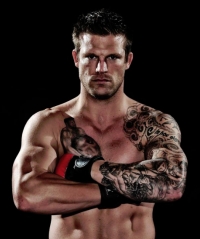 The UFC recruited 32 fighters who fought in a single elimination contest, and after the first episode only 16 were left.  In the second episode another fighter, Cameron Diffley, was eliminated.  In the weekly episodes remaining, a fighter will be eliminated every week until only two remain to fight for the Championship on December 15th.  Time will tell if Bristol Marunde is the Ultimate Fighter.

Bristol grew up in Sequim, Washington and has fought his way through the world of mixed martial arts the old fashioned way–one fight in the cage after another and training relentlessly every day in the gym.  Bristol now lives and trains in the fight capital of the country, Las Vegas.

Bristol Marunde is the Ultimate Fighter on FX TV
I've watched hundreds of Bristol's matches in the early days, many of his amateur MMA fights and in the past few years nearly every one his professional bouts in cages all over the country.  I've seen a lot of fighters.  Some fighters are good at grappling because they have a strong wrestling background.  Some MMA fighters are good at striking, because they have a boxing background.  Some are good at submissions, because they have a jujitsu background.  Some fighters are known for their strength and others for their speed and agility.  Bristol is a well rounded fighter, but few have seen Bristol unleashed.

Bristol Marunde is the Ultimate Fighter on TUF Season 16
Bristol has had some tough fights, and he's had some great victories over fighters like Jay Silva, Victor Moreno, Chuck Grigsby, Shane Primm, and Rich Attonito.  I watched ringside as Bristol picked 185 lb. Jay Silva up, slamming him to the mat several times, ultimately sitting on Silva's chest with ground and pound.  Chuck Grigsby at 6'5″ towered over Bristol's 6'1″, but Bristol pounded, kicked, and beat Grigsby until he won with a unanimous decision.  Shane Primm thought his leg was broken when Bristol was done with him.  After a series of victories, Bristol became the SCC (Superior Cage Combat) Middleweight Champion.  Bristol's opportunity to fight in The Ultimate Fighter Season 16 is like a professional basketball player getting the opportunity to play in the NBA.

I don't know how The Ultimate Fighter Season 16 will play out.  I do believe Bristol Marunde is the Ultimate Fighter, and any fighter crazy enough to get into a locked cage with Bristol could get seriously hurt.
Bristol Marunde is the Ultimate Fighter and Champion MMA Fighter
Bristol will have to fight his way through a number of fighters, all of them accomplished mixed martial artists.  Watch The Ultimate Fighter Season 16, officially called The Ultimate Fighter Fridays, every Friday (Starting September 14) on FX (Chanel 136 on Dish).  Frankly, I'm on pins and needles, because I don't what is going to happen and how far Bristol will go.  No matter how far Bristol goes it in TUF 16, he has proven that he is an incredible athlete.  I know all this, because I am Bristol's father.
Let me know if you have the opportunity to watch his coming fights.  In my humble (and proud) opinion, Bristol Marunde is the Ultimate Fighter.
Last Updated on August 15, 2022 by Chuck Marunde