Bristol Marunde and his wife Aubrey start season two of HGTV's Flip or Flop Vegas on HGTV starting March 15, 2018. Bristol Marunde is from Sequim, so we are very proud to see him on HGTV on the best home remodeling show on the network. Of course, I am personally very proud, because Bristol Marunde is my son.
Bristol Marunde on HGTV Flip or Flop Vegas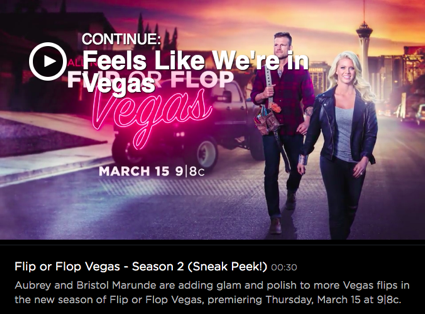 If you want to catch Season 2, you'll find Flip or Flop Vegas on channel 229 on Direct TV starting at 6:00 p.m. in Washington State this coming Wednesday, May 15, 2018.
Check out the video intro from HGTV: Bristol Marunde and Aubrey Marunde on Flip or Flop Vegas.
Some of you in Sequim will remember Bristol's older brother, Jesse, as a world class professional strongman who became the 2nd strongest man in the world in Chengdu, China. Bristol became a great wrestler and eventually a mixed martial arts professional. He has earned a championship belt in two MMA organizations, and he was also on UFC TV. Bristol is also an MMA promoter in Washington State. He and Aubrey and their two boys, Kane and Kale live in Henderson, Nevada.
As if they didn't have enough to do, Bristol and Aubrey are starring in their own TV show remodeling their own homes. Buying the right home, remodeling it, and selling it is a lot of work, but now they do it on a film crew's schedule, 13 homes for the season. What a schedule!
Now you know about Bristol Marunde and Aubrey Marunde. I'm exhausted just thinking about everything they do in a single week.
Last Updated on September 6, 2019 by Chuck Marunde