Buying a second home in Sequim is becoming more popular this year than in any previous year in my personal observations.  Why is this true, and what are the reasons people are buying a second home in Sequim?
Buying a Second Home Good Investment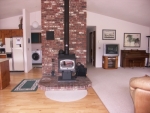 Many retirees are not feeling confident that their life savings is safe in the stock market (stocks, mutual funds, ETFs) or in Gold or Silver, or convertable hybrids or other exotic instruments.  Even traditionally safe concepts like "diversification" only means spreading risk to multiple high risk investments (or less risky investments that don't even keep up with inflation).  Everyone agrees that interest rates will go up soon, and the worst place to be when interest rates increase is in bonds.  Individual investors are not finding any happy places to park their money.  Stuart Varney, a financial expert for Fox News, said today he believes that individuals are getting out of the stock market because they're so tired up the drastic ups and downs almost daily.  He added, "How do you know where to invest when you don't know if Europe is going to collapse?"  So where can you invest your funds where you can be confident that you've made a solid investment?  For many retirees the answer to that question is buying a second home in Sequim.  Of course, that assumes you buy a home in the right location and at the right price, and with careful planning and a good buyer's agent, you can do that.
Buying a Second Home is a Safe Haven
No one knows if we are at a Market Bottom, but I have clients buying a second home in Sequim at low prices with built in equity, and at prices that are substantially below the replacement construction costs.  Because they are buying homes that are single story, three bedroom and two bath homes, with nice floor plans and gorgeous custom kitchens, these are the homes that will be very sellable in seven to 10 years.  So it doesn't matter if the market doesn't start to come back for one or two years.  These clients are buying a second home for the long term, and with this strategy, they are making a good investment in a safe haven.
Buying a Second Home in Sequim is Ideal Location
Sequim has become a very popular retirement destination, and it has been voted "One of the 10 Best Places to Retire" in the U.S. by magazine articles around the country over the past 15 years.  Sequim is known as "Sunny Sequim," because of the Blue Hole or the Rain Shadow, since it gets one-third the rainfall of Seattle, although we are only two and a half hours from Seattle.  Retirees can check off almost all of the major items they want on a retirement checklist.  And the homes and land for sale in the Sequim area give retirees so many options.
Search the entire Sequim MLS
Many of my clients are buying a second home in Sequim but not renting it out.  They like to be able to stay in their Sequim home several times a year, and they don't want to deal with tenants.  This means they support two households, but many retirees feel more comfortable supporting two households than having their funds invested in other higher risk investments (or in low rate of return annuities).  I think buying a second home in Sequim makes sense, especially now in this market with prices as low as they are and with historically low interest rates.

Last Updated on December 7, 2011 by Chuck Marunde