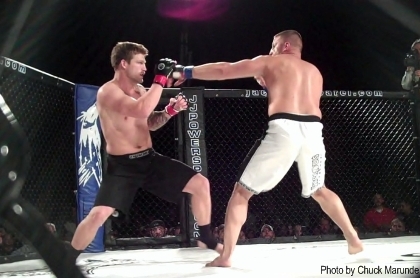 When you purchase a home in Sequim or Port Angeles for your perfect retirement, the last thing you want to do is find yourself in a major fight, locked into a cage to do battle until you or the seller taps out.
Buying a home in Sequim or Port Angeles involves so many details, I sometimes find myself amazed, and I've been doing this for almost three decades as a real estate attorney and now real estate broker.   What details am I talking about?   Here are some of the details that have come up for my buyer clients recently.
The Home Inspection.   Most of my buyer clients are from out of the area, and while they are here when we look at homes and write up the offer on their ideal home, they are typically not here for the home inspection a week or more later.   Who should handle your home inspection?   Who is the best home inspector around?   Who can attend your home inspection if you are not here and hold the inspector accountable just like you would if you were here?   What kinds of issues need to be addressed for repair or replacement, and who will repair or replace those items?   Who can bring the supervision and attention to detail that you would if you were here?   There's much more to a good home inspection than most people imagine.   If I am your buyer's agent, I attend the home inspection for you and follow up on all the details.   Read What Does a Home Inspection Involve?
The Crawlspace.   One of the most important aspects of a home inspection is a thorough examination of the crawlspace beneath the home.   What if your inspector cannot find the entrance to the crawlspace?   That just happened.   This home inspector and I looked for 45 minutes, and we could not find the entrance, and believe me we know where to look.   Even the seller (heirs to the elderly parents who owned the home but passed away) did not know, and couldn't find it after searching.   The home inspection could only be completed when the sellers had to cut a hole in the floor to get under the house to find the entrance.   It was hidden behind thorn bushes and disguised in the siding of the house.   But all of this meant that the inspection deadline was looming and an extension had to be coordinated so the buyers did not lose that protection.   Who handles all those details for a buyer, especially one from out of state?   Again, I do for my clients.
The Appliances.   True story.   The cooktop in the kitchen island was cracked and had to be replaced.   My clients were already back in California, but they needed the model number of the cooktop so they could special order a new glass top.   Of course, customer service is one of my pet peeves, so I went out to the house to get the model number.   I could not for the life of me read it.   I had to pull the drawer out from under the cooktop, slide into a narrow space on my back while holding my weight above the lower drawer guides, and look up to the bottom of the cooktop with a little label that was turned the wrong way, and I couldn't get my head close enough to read it because of braces in the way.   After some thought, I took my digital camera and held it where I had been lying and took several shots until I finally had one of the label, which I then blew up on my office computer where I could read the model number.
The Sprinkler System.   One of these houses had a sprinkler system that did not turn on with a simple flip of the switch.   I scheduled an inspection by a sprinkler system expert for my out of state clients and met him there.   Too many problems to mention here, but we are working through those issues to the satisfaction of all parties, and within the inspection time lines.
The Garden and Landscaping.   What if the home you are purchasing has a beautiful garden with lots of specially planted trees, shrubs, flowers, and an extensive watering system?   Who will make sure all of those gorgeous and expensive plants stay well watered and cared for between mutual acceptance and closing?   Just another of many details that need adult supervision while you are absent.
The Septic System.   Is the septic system okay?   Does it need maintenance or repair, and should it be pumped before closing?   Not all septic tanks should be pumped, and doing so can actually be damaging to the system.
The Water and Irrigation Systems.   Is there an outside water source, such as an irrigation system?   Is the potable water and the irrigation water on the same or different systems?   Does the irrigation water run year round or only from April 15th to September 15th?   Sequim has a lot of private irrigation systems.   Some systems have a hook-up fee for $2,500 or more, like the last house I sold on the John Wayne Marina water system.   The seller neglected to mention it, and the listing agent didn't know about it.   These are things buyers need to know.
The Title Report and Clouds.   Will you get a preliminary title report as soon as your agent gets it?   There is a five day deadline to review it for potential restrictions on the property.   Is there a 60 foot wide utility or public road easement on part of your property?   What other clouds or encumbrances hinder your use of the property as you intend to use it?   This is where I am glad I was a real estate attorney and know how to interpret these things for my clients.
The Seller's Disclosure Statement.   There is a new line on the Washington Purchase and Sale Agreements.   It's line 9 on the first page and it deals with the buyer's remedies regarding the Seller's Disclosure Statement.   This is a legal subject that unfortunately is terribly misunderstood by many real estate agents and brokers.   As a buyer, you definitely need to have a handle on this issue.   Read articles on Seller Disclosure and Buyer Beware.
The Addendums to a P&S.   There are numerous possible addendums to a purchase agreement.   Which ones you need depends upon your agent's experience in knowing which ones to use to protect your interests as a buyer.   Most buyers don't know how many legal documents are associated with buying a home.   See List of Washington Documents to Buy a Home.
The Appraisal.   In this chaotic market, is your appraiser going to objectively and intelligently appraise your home without including foreclosures and short sales that went for a deep discount?   Who will help you work through that issue so you can get your appraisal done right with a decent loan to value ratio?
Well, this is not a comprehensive list by any means, but let's stop there.   Your head may be spinning already.   I guess it is obvious at this point that if all of the details on your next purchase are not handled with great attention to detail and professionalism, you could end up in a major fight with the seller, or you could lose the home to another buyer.   Enough said.
Last Updated on September 2, 2019 by Chuck Marunde