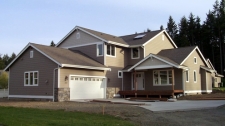 The Sequim real estate market and the Port Angeles real estate market are up.   Whether this is a short term bump or a long term bump is anyone's guess, but there is no question that buyers have stepped up to the plate.   Homes that have gone under contract (pending) has been increasing in the last month dramatically, at least for our small market.   A couple of months ago we had 81 transactions pending, then I wrote a couple of weeks ago how that had jumped to 100 and today it is 107.
The Sequim area is intimately connected with the California market and other markets outside Washington state.   When we see an increase in the real estate market elsewhere, after a short lag we begin to see it here.
On a national level we have seen a positive movement recently.   After three years of declines, home prices increased 2.9% in the three months ended June 30, according to the latest S&P/Case-Shiller report. That is the first quarter-over-quarter improvement in three years.   This is good news.
The first time home buyer credit of $8,000, interest rates at historical lows, and housing prices dragging bottom, no wonder buyers with the ability are making their moves.   In a few months the landscape may be quite different for buyers, and apparently buyers know that.
Last Updated on August 25, 2009 by Chuck Marunde