I believe the best Sequim MLS and Port Angeles MLS site where you can search all the local real estate listings is one I had programmed specifically with buyers in mind.   The reason this unique is because you can search the entire Olympic Listing Service and the entire Northwest Multiple Listing Service easily from this page.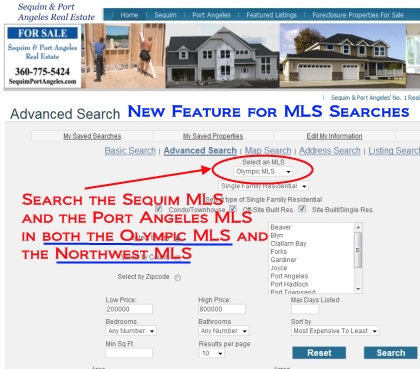 If you didn't know, we have two MLS's here in Clallam County, so our listings are bifurcated.   Well, theoretically 100% of our listings are in the OLS, and from my statistical analysis, about 67% of the listings are also in the NWMLS.   The reason this is so important to buyers is that they could be searching an aent's website that only pulls in listings from the NWMLS, which means you will be looking at all of their listings but not all of the listings available here.   If you have been reading my articles, you'll already know that I am very consumer-centric, and I don't like consumers not getting what they expect to get.   Some agents might prefer you only see their own listings, so they can double up on the commission.   That's not the way consumers (buyers) ought to be treated.   I'm a member of both systems, so I had my programmer set this page up so you could search both MLS's here.
Search the Sequim MLS and
Port Angeles MLS in the OLS and NWMLS
Notice the pull down menu near the top of the search section in the middle.   You can select either Olympic MLS or Nowthwest MLS.
Working hard night and day to provide buyers like you with the tools you need to do powerful searches on the Internet without me or anyone else getting in your face.   If you have any questions, you know how to reach me:   chuckmarunde@gmail.com or 360-775-5424.
Last Updated on August 22, 2009 by Chuck Marunde