Sequim welcomed Christmas morning with a foot of snow covering and a picture perfect light snow fall.   Who wasn't up early today?   The kids certainly were.
The temperatures in Sequim and Port Angeles were tied at a balmy 33 degrees at 11:04 a.m.
This is probably one of the quietest Christmas days we've seen in Sequim, mostly because the business climate has paused, not just because of the time of year, but because of the nationwide real estate market and the entire economy.   No matter.   This is a day to count our blessings and give thanks, after all someone very important was born on this day–in a manger.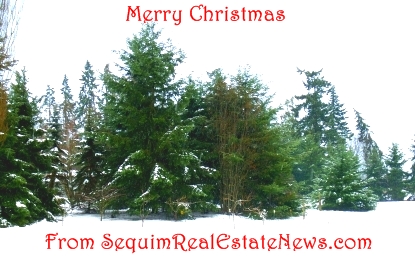 Last Updated on December 25, 2008 by Chuck Marunde